by Ron Gilbert
May 26, 2016
During one of the podcast I mentioned we were having some design issues about halfway through Act 1 and we were trying to find a good fix. I can excitedly proclaim our design demons slayed and here is what happened.

I'm going to try and be as spoiler free as I can, so excuse me if I mask some of the puzzles by calling them "doors". I promise that Thimbleweed Park is more exciting than finding keys to open a bunch of doors, but at it's core, that's what adventure games are. Sometimes during early design we will just call a puzzle a key and door. All that really means is something is blocking the way (the door) and something is needed to get past (the key). We'll figure out something more interesting later (like a rubber chicken with a pulley in the middle).

Of course, sometimes there is just a door and a key. Sometimes a cigar is just a cigar.

There is this point Thimbleweed Park where the world opens up. It happens about halfway though Act 1. Imagine chartering Dread's ship in Monkey 2 and you'll get the idea. The game starts out and players are pretty focused on the body and finding the killer, then they come to the vista and see the amazing panorama of locations they can travel to. Excitement takes over and they rush to the trail only to be stopped by a "door".


Remember back in paragraph two when I said I would use "door" as metaphors for puzzles to avoid spoilers? This is one of those cases. There is not a door on top of the vista. SPOILER: There is not a door on top of the vista.

When you present the opportunity to visit so many lovely locations, you can hardly blame players for forgetting about the pesky body and turning all their attention to the door on top of the vista, and that is exactly what they do.

Hours of hilarious and riveting gameplay later...

Players find the key (which isn't really a key) to the door (which isn't really a door) and they head out into the vastness of Thimbleweed County.

And they are lost. Not lost in the sense of which way is north or how do I get back to town, but lost in the sense that they totally forgot about the body and all the clues that were being laid.

I struggled with a lot of solutions to this problem, including making the door less sexy or forcing attention to the body (but who can resist a sexy door). In the end, I decide to leave everything as it was and add a small cut-scene.

When players unlock the door that isn't a door with the key that isn't a key, the second agent will show up and they have a conversion (via a dialog tree) and chat about what they still need do to solve the crime.

It works well because it refocuses players and provides a small recap. I was even thinking of doing something similar if you start up the game and it's been more than a few days since you played last.


Crisis number one averted, now on to crisis number two.

After getting past the vista, there is another door (that isn't a door... do I need to keep saying this) you need to get through. The problem with this door is that it isn't a very sexy door. Unlike the sexy vista door that you can see treasure behind, players have no idea what is behind this door. It's just a door. And to make matters worse, it's a door they saw very early in the game and probably forgot about. The key to this door is beyond the vista, so it couldn't have been opened sooner.

Now that players are beyond the vista, they have access to the key, but they could care less. We don't want to tell players what is behind the door because it's a surprise. We don't even want to nudge-nudge-wink-wink it. We really want it to be a surprise.

So players get past the vista, solve some more puzzles and then they just start wondering around. Maybe they remember the door (that isn't a door!) and maybe they start to looking for the key (that isn't a key!) only because they are bored and it's a puzzle to solve while they compose their angry "this game sucks" post on whatever adventure game forum they visit too many times a day.

How to make the purposely non-sexy door sexy?
The solution was to put something else behind the door and tell players about that, but not the surprise that is really behind the door. Now players think there is something else they want behind the door (IT'S NOT REALLY A DOOR!) and seek it's key.

When they finally get in, they will stumble on the surprise, all the time thinking how clever they were, when in fact they were just being manipulated by game design.

"And that little Timmy is how you make a game."
"That's very interesting Uncle Ron, but can I go play Minecraft now?"
"Sure, whatever."

- Ron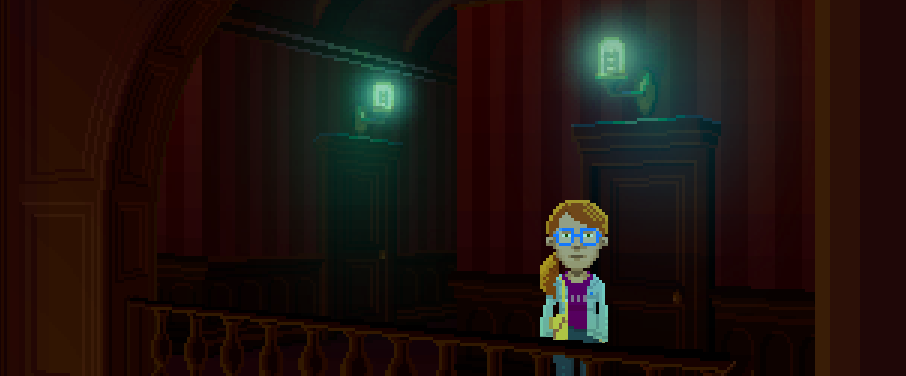 P.S. The use of doors as a puzzle metaphor was only to confuse you, there is nothing interesting behind any of the doors in Thimbleweed Park.

---