by Ron Gilbert
Mar 11, 2015
Time for some more puzzle dependency charts. Forget Instagram and Snapchat, it's time to start sharing your puzzle dependency chart with all your friends. It's the thing all the kids are talking about.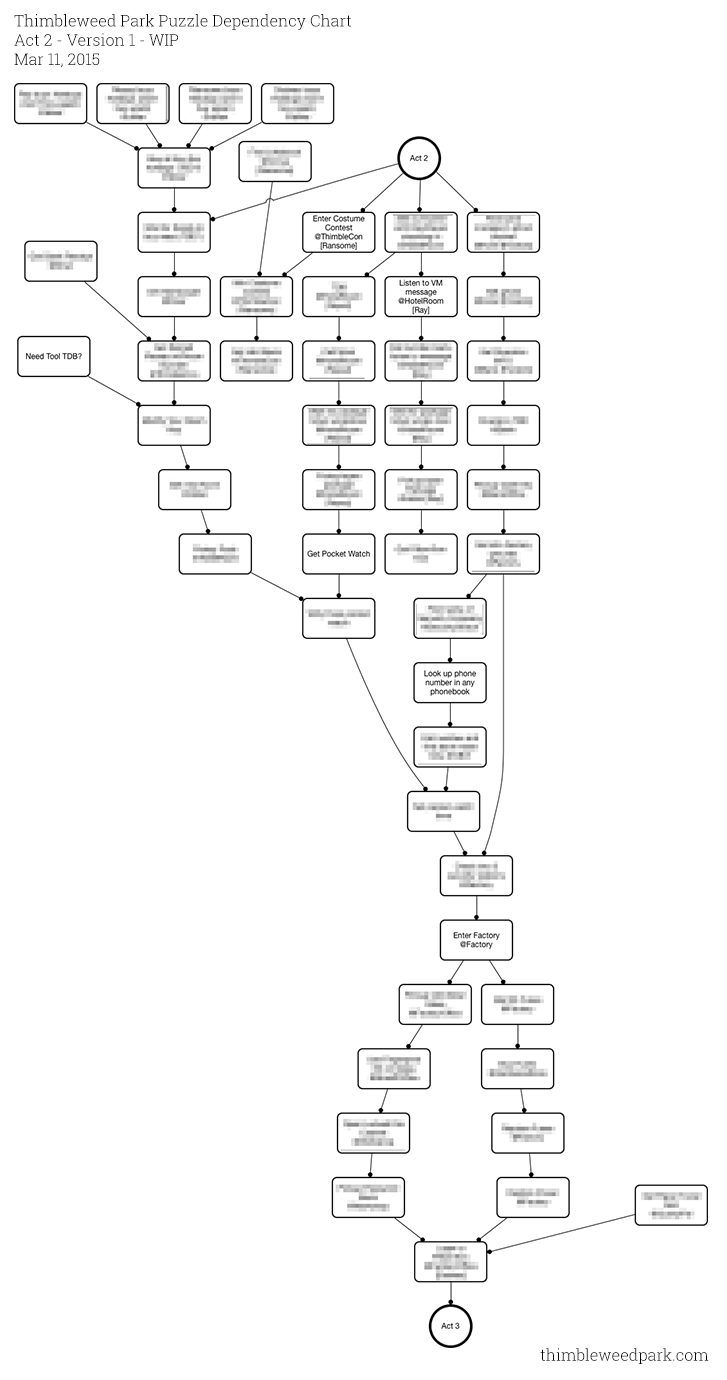 Here is a first pass at the puzzles for act 2. There are still some puzzles we haven't figured out, so this will get a little beefier in the next few weeks, but all the core chains are there. There are a couple of puzzles that start in act 1 and don't get finished until act 2, so that's why there are some unconnected nodes.

There are a few more puzzle chains that happen in the factory, so the bubble at the end will get more complex, and still contain a similar feel of parallelism.

This also doesn't include the character specific puzzle chains that only relate to the character stories, since many of those are optional unless you're solving the epilogues.

I'm keeping the puzzle charts for the three acts separate right now, just so they are easier to edit and manage. Once act 3 is designed and charted, I'll move everything into one big chart. It's going to make my head hurt when that happens.

A couple of things came out of this latest brainstorm session.

The first was the length of the three acts. Should act 2 be the longest/biggest, or should that be act 1? It feels like act 2 should be longer than act 1, just for pacing reasons. Right now it feels like act 1 is bigger. That might be misleading due to the character focused puzzle chains not being part of the chart, and they will add playtime during act 2, although it is "optional".

Act 3 should be the shortest. Players will know what they need to do by the end of act 2, so act 3 should be a nice fast paced conclusion, and you don't want it to drag on. Being back on Mêlée Island with LeChuck was the act 3 of Monkey Island.

It's hard to tell the true length just based on puzzle charts, but it's a good indication. We won't know for sure until we start playing it, then we can adjust as needed. Add a puzzle here and there, or snip a few away.

The second thing was realizing that this story is really about the two detectives, Ray and Reyes. They are the main characters. Ransome, Delores and Franklin, although fully playable, are really supporting characters. They have great b-stories, but the game is about the detectives. There are lots of puzzles where you need to be one of the other three characters, but you will probably spend most of the time playing Ray or Reyes. They both have very different motivations and personalities and one isn't more important or more of a lead than the other.

This is a good thing, it feels like it's giving the theme of the story more focus, but still giving players choice and alternate avenues of exportation.

- Ron
---