by Ron Gilbert
Mar 26, 2015
One small design issues Gary and I are wrestling with is badges.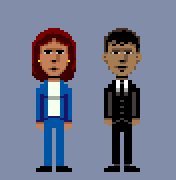 The two main characters in Thimbleweed Park, Detective Ray and Reyes, are both federal agents. As of yet, we've never called them FBI agents or specified what agency they work for, but they are real federal agents.

And occasionally this has posed a small adventure game design issue because they are federal agents and they have badges and guns. Why doesn't everyone just do what they say and answering any questions they have? If they want to use the photocopy machine, can't they just flash their badges and use it, rather than solving a puzzle chain to get a nickel? Let's ignore the fact that it's pre-debit-cards-1987 and why isn't everyone carrying some pocket change around at all times. Let's just ignore that for a moment.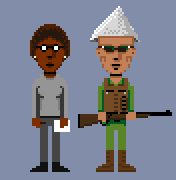 Yes, Chet the survivalist out in the woods might be reluctant to let them explore his underground compound, and yes, Natalie, reporter for the Thimbleweed Nickel understands freedom of the press and isn't going to just answer any questions they ask, or do anything they want, but if everyone responded with "Not without a warrant", it would be highly unrealistic and, well, boring.

The sad fact is, in real life, most people will answer any question and do pretty much anything the authorities ask.

We've dealt with the largest of the puzzle issues that having a badge breaks, but we're always asking ourselves: "Why don't they just flash their badge?"
It's an interesting problem to solve. It's one of the things that makes this fun.

- Ron
---