by David Fox
Jun 15, 2015
Every graphic adventure I've worked on has at least one puzzle or interaction that seemed really simple when we designed it, but ended up becoming enormously complex and the source of countless bugs. This inevitably resulted in countless fixes, patches, and smiling sadistic playtesters eager to report yet another issue.

We call these Whack-a-Mole bugs. Fix one and another pops up right next to it. They usually happen when you don't think through all the possible side effects of your design choice, and from needlessly complicating what could be a simple interaction.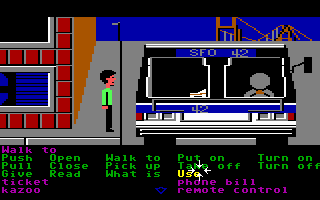 In Zak McKracken and the Alien Mindbenders, the "WaM" puzzle involved getting on the bus in San Francisco. Sounds simple, right? You just give the bus driver your CashCard™ and he lets you on. But I wanted to make this interaction flexible... more like real life. What if there were two characters (Zak and Annie) waiting for the bus? What if one didn't have enough money on their CashCard™? Could one pay for the other? What if one was at the bus stop but didn't board the bus before it left? What if the bus driver went back to sleep after you already boarded the bus and paid? What if the bus just left with Zak and Annie walks up—should another bus be there, or should we wait a suitable period? Because of countless weird permutations, the image of our lead playtester evilly smiling at my office door is burned into my memory.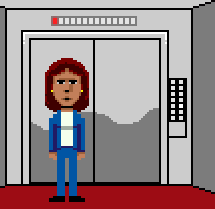 After I'd spent days, nah, weeks, fixing these WaM bugs, I wondered about the overall coding and debugging time investment vs. gameplay payoff ratio. Was I really making the game more fun or would my time have been better spent on a game interaction with a higher Funitivity Quotient™? For example, if the boarding-the-bus bit had been a cut-scene, it wouldn't have made much difference to the overall playability of the game. (So what if the driver was rude and left Annie standing at the bus stop?!) You could have just walked up to the bus and automatically ended up at the airport, CashCard™ appropriately debited.

It's been over 25 years since Zak, but the bus puzzle still keeps me up at night. No, not really... it's the stewardess-bathroom-egg-in-microwave puzzle! Anyway, because I've got all these extra waking hours I am always on the lookout for similar interaction problems where we could put in way too much time for the payoff. In Thimbleweed Park, one potential candidate is... The Elevator.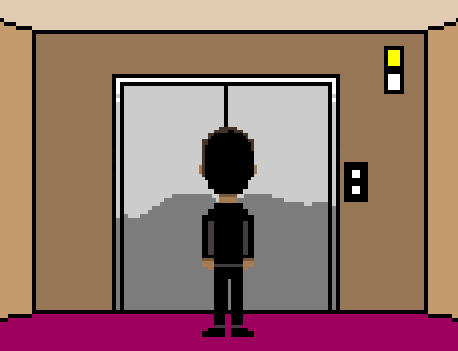 There's a single elevator in Thimbleweed Park's Edmond Hotel. You can board it, select your floor, and ride up or down, just like in a real elevator. What I haven't addressed yet are all the complexities. What if Agent Ray is riding the elevator and you switch to Agent Reyes who pushes the call button from a different floor? Must we make the elevator behave like a real one and stop at the floor to let the other character on? What if two characters both press the elevator button at about the same time? What happens if both characters board and press buttons for different floors? (That's what we expect on a real elevator, but do we need to implement this on our virtual one?)
See how things can get real complicated real fast? But on the other extreme, if the implementation is too simple, it could frustrate the player who expects Thimbleweed Park Hotel's elevator to interact like real ones. "Hey! What's wrong with this game? Why can't I press every button and stop at each floor?! And where's the emergency STOP button?"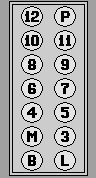 For a first pass, I programmed the elevator so we can move around the hotel. I'm still looking for that balance between time invested in modeling reality and fun for the player.

Similar potential craziness involves what to do when you can see from one room into the next. For example, if Ray walks down the street and stands at the doorway to the bank, and then you switch to Reyes inside the bank. If Reyes opens the door to leave, should we see Ray standing there (on the other side of the door,) even though that's really a different room? Should we design all our rooms so you can never see through to another room? In our old adventure games we never worried about this. Probably won't now. Sometimes reality is just not worth programming.

- David
---