by Ron Gilbert
Feb 02, 2016
When you think "point & click", the first thing that pops into your head is "game controller". Am I right? Yeah, I thought so. The "I thought so" part should be read in your best sarcastic voice, because we all know that is not what pops into your head.

Control schemes are always hard and one of the least favorite parts of making a game for me. I know people who live for it - and power to them - but for me, I just want the control scheme to vanish. It's an archaic connection between our bodies and our minds and it's unnatural at best. Maybe that is why I like a mouse and just pointing and clicking, but I know that is not natural for a non-inconsequential subset of humans, so in the end, there probably isn't a perfect control set up. I'm sure Holodeck designers of the Star Trek future hate UI and control scheme as much as I do, they are just dealing with a different set of impossible constraints.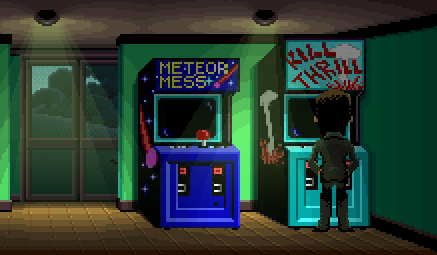 Thimbleweed Park was always conceived to be a true point & click adventure game. With a mouse. And pointing. And clicking. It's the way god intended adventure game to be played. Look it up.

But there is part of me that enjoys laying on the couch, feet sprawled in unnatural ways across the cushions and playing a good console game with a controller. It's a very different experience than sitting at a desk with a mouse. When I'm playing PC games at a desk, I expect to be thinking and pondering. When I'm playing a console game with a controller, I expect to be more viscerally attached to the game. I expect to be doing something all the time.

That was part of the impetus for The Cave: build an adventure game that was designed from the start to be played with a controller and feel energetic.

But that isn't Thimbleweed Park. Thimbleweed Park was designed to be an adventure game played with a mouse. With pointing. And clicking.

That said, we've always wanted the game to be on consoles. It's a different audience and one we want to reach. I look at it as a challenge. How to make a point & click adventure game that is true to the roots (and to the Kickstarter and our vision), but is playable with a controller. And not just "barely" playable, but fun with a controller. Every bit as fun as it is with a mouse.

I don't think I've ever created a control scheme that didn't go though round after round of tweaks and complete restarts. The point & click scheme for Maniac Mansion didn't come out fully formed. It went though a lot of redesigns until we landed on what we did. Then it went through even more redesign for Last Crusade and even more for Monkey Island. Control schemes need to feel natural and sometimes that takes time. You know there is "something" wrong, but you don't know what.

The deceptive part of building a control scheme is that you can only talk about it so much. You never know until you play it. The most talked through control scheme can fall apart a mere second after trying it. Your brain figures out every hole and contingency, but your fingers just want to do something else.

We have an opportunity to show Thimbleweed Park as part of a presentation with Microsoft in March. I was hoping to punt on the deep controller work until later, but they are requiring the game be shown with a controller, so time to rejigger the schedule and move controller head-banging (in the bad way) up.

Controller support has been in for months, but only very basically where you move the cursor around with the thumbstick. We knew we needed more.

So the first thing I did was think of every game I could on console that might have solved a similar problem and then didn't look at any of them. I very purposely didn't want to see how others had dealt with this thorny issue so I wouldn't be tainted. I am not a console player so I thought maybe I could come at this from a fresh perspective. This isn't born out of arrogance, but more of the "too stupid you don't know it can't be done" line of think. Ignorance can be wonderful sometimes.

I'm intimidated by buttons. I like that a mouse has two buttons. Three button mice freak me out. Controllers have a lot of buttons, but console players don't seem to mind. My personal mission was to use as few buttons as possible and I feel like I failed in this regard. I'm using pretty much every button on the controller. My only saving is that many of them are optional, used only to speed the action up. You can still play the game with one thumbstick and the A button.

The game has two different controller modes you can switch between. One I call Classic, where you drive the cursor around with the thumbstick, the other is Modern where you drive the character around with the thumbstick. They are basically the same except for what the thumbstick does. All the other buttons function the same.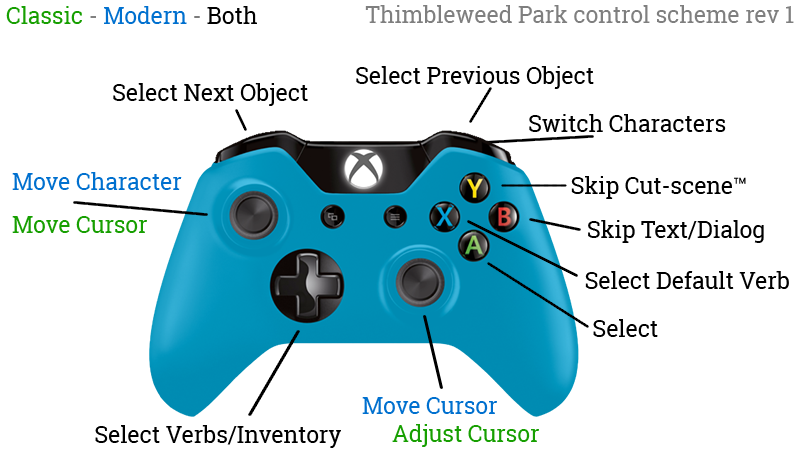 This is completely untested on real players, so I expect a lot to change once I do that. I like it, but I'm not the "target audience". I'm also sure I forgot something super important. I always do.

Now I'll go look at how other games solved this problem and realize I did it all wrong. Or not.

I've put together a short video of it in use, but it's hard to tell what happening without knowing what buttons I'm pressing on the controller. If I was fancy, I'd have a little controller insert showing you what buttons I'm pressing, but I'm not fancy, nor do I have a building full of people that run around and make slick videos for me, so you're stuck with this.

I'll update as the controller scheme gets refined.

- Ron
---