by Ron Gilbert
Jul 20, 2015
We cut 25 rooms from the game last week. No one panic, it's not a bad thing, it's actually a good thing.

Put. Down. The pitchfork.

Editing is one of the most crucial stage of any creative endeavor. I know it seems like you're losing something when stuff is cut, but the old saying "less is more" is actually very true.

You cut stuff to focus the story and the puzzles. Pointless rooms don't make the game bigger and better, they become useless traversal and dilute attention from what really matters.

The great purge of 2015 started with a mental exercise.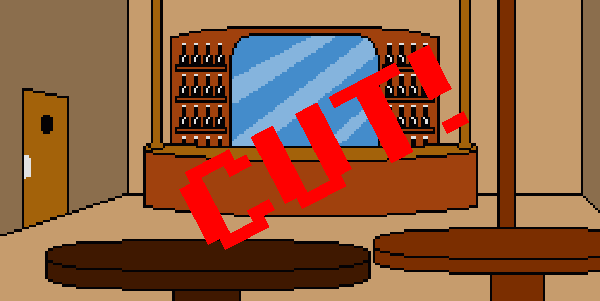 I asked Gary and David to make a list of 15 rooms they would cut. After each of us had compiled our lists in isolation, we sat down and talked through our choices.

The breakdown of the cut rooms is as follows:
We cut 5 rooms because we decided to have the circus flashback happen at night instead of during the day. This allows us to use the same rooms for the main game and the flashback (with some object overlay changes). CUT!
We cut two rooms from the circus because we never came up with a singe puzzle or purpose for those rooms. CRUFT! CUT!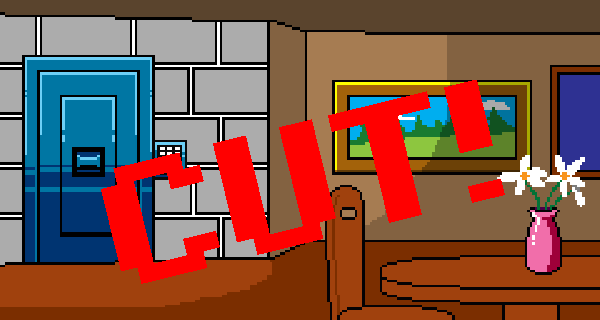 We cut two rooms that were just the sides of the pillow factory. They seemed like a good idea four months ago, but felt like baggage after playing. CUT! CUT! CUT!
We cut three rooms from the Delores family manor. Again, we never really found a use for these rooms. One of them might come back as we still have a couple of dangling puzzle chains in the mansion and might find a good use for them. CUT! MAYBE! BUT CUT!
We cut two rooms from the hotel because they were just variations of the generic hotel room that are better done with object variations. CUT! CUT! CUT!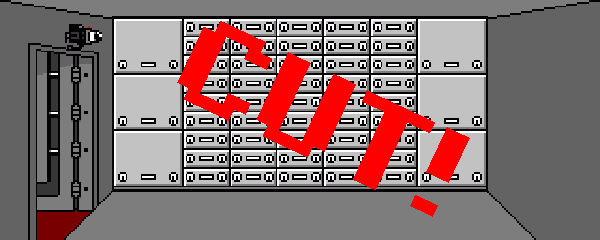 We cut another room because the puzzle was better done as long shot and not going into a new room. CUT!
We cut one room because we came up with a funny gag instead of having the room. CUT!
We cut three rooms in town because we never found a good use for them. The town of Thimbleweed is supposed to be a little old and decaying, so they got turned into abandon buildings. It works better that way. CUT DAMN YOU! CUT!
You might detect a small amount of glee is my ALL CAP outbursts, and that wouldn't be misplaced. I enjoy cutting. It means the game is getting leaner. A lot of rooms in Monkey Island were cut and no one noticed. I don't think I miss a single one of them and none of them would have made the game better, possible just to opposite.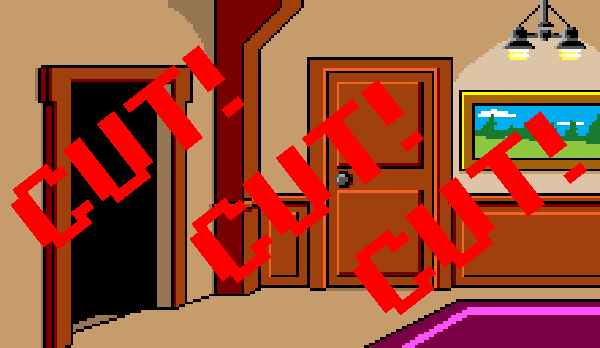 That's not to say we cut solely for creative reasons. The rooms count was getting up there. We had over 100 rooms, far more then either of the Monkey Island games, which were much bigger than Maniac Mansion. Coming out of pre-production, we started to do a final schedule and budget and realized we couldn't get everything done in time or for the money we had. Something had to give.

But we knew that going in. I like to over design and then cut and that's what we did. Nothing we cut sacrificed the game.

It's also why we do a completely playable game during pre-production. In some way, these cuts are free. No one invested time, energy or ego into any of these rooms. CUT!
Whenever I've done post about cutting stuff, people inevitably ask if we can leave it the game as a "director's cut".

That's not easy to do. There is so much "connective tissue" that holds the rooms together and we're cutting early in production, so it never gets fully wired up or programmed. There are a couple of places that we'll leave some cut content in as easter eggs, but for the most part, the game moves forward too fast to make it worth keeping cut content in a useable form.

Or maybe during the end credits, paying tribute to the fallen heroes that made the game possible.

"We'll miss you bank vault."
- Ron
---