by Jenn Sandercock
Oct 25, 2017
Thinking about cosplaying Delores for Halloween or some other event?
I got to cosplay Delores at PAX West AND Geek Girl Con this year. I had an immense amount of fun pretending to be a game developer for MmucasFlem games! And now, with this handy guide, you too can have fun!
Assemble your outfit
Let's start with some reference pictures of Delores.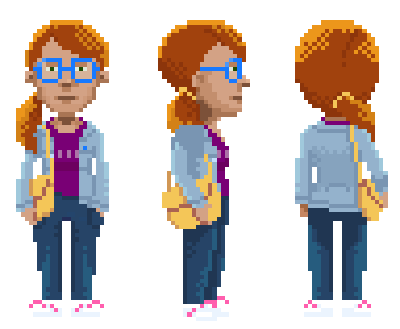 You've got to get all the essentials together to be able to become Delores. Let's go down from head to foot.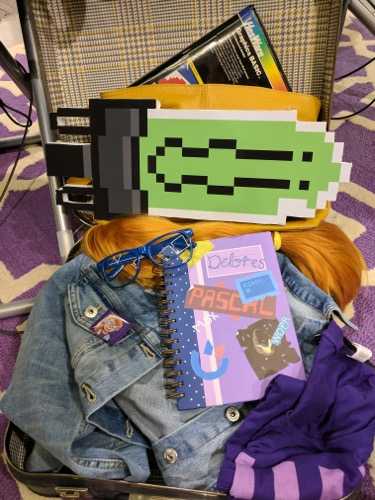 Head
The glasses are the most important part of the entire outfit. If you're going the simple option, just get these glasses and forget everything else!
If you naturally have Delores' hair, then I'm super jealous! For everyone else...

▶︎ Temporarily dye your hair
▶︎ Get a wig, there are many cheap ones available, but I like this one from Arda.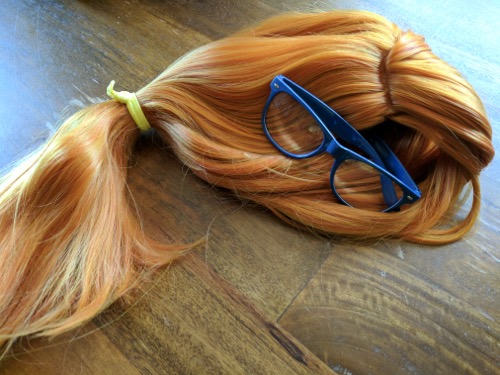 Torso
You'll need a t-shirt and jacket.

Delores' shirt was created to mimic Dave's shirt in Maniac Mansion. Dave's shirt is gray with the Lucasfilm logo. So by extension, you can wear any purple shirt with a slogan on it, although I'm sure Delores would prefer MmucasFlem or some other games company logo.

I created as close a replica as I could on Red Bubble as a scoop-neck women's shirt.

For the jacket, Octavi, who drew Delores, assures me that her jacket is a denim jacket like this light blue one.

Legs & Feet
For jeans, I'm not going to give you a link to find blue jeans because... well... I'm sure you have something that will work! Fold up at the bottom so they're pretty high.

The most important thing is the curly pink laces. But make sure you also get white socks and plain white shoes (these ones are pretty comfy).

Accessories
Getting a bag that fits what you want and looks authentic is pretty hard. Still, most cosplay characters don't have any bag at all, so I feel like it's a bit of a luxury to be able to stay in character AND get to carry around my mobile phone and keys.

I ended up settling for a bag that wasn't quite right, but was a bag that I had in my bag collection anyways. If you can make your own bag, do that! But otherwise, maybe this or that option from Amazon will work for you.

Now you've got all the basics, you can add in some fun things!
Like a balloon animal....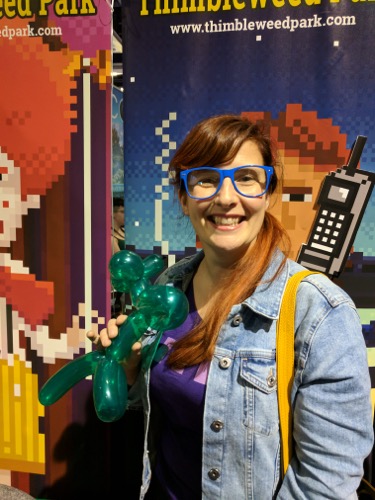 Or make some damn, fine Thimbleberry Pie...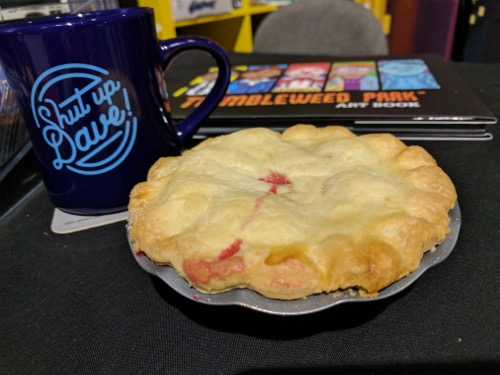 You can also make yourself a notebook to remember all the things on your TO DO list. You're aiming for something like this: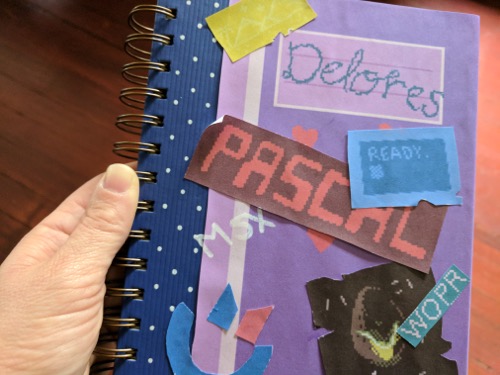 You'll need a blue notebook with spiral binding. I'd recommend picking up something in your local supermarket or office supplies place. However, if you're desperate, this one from Amazon looks about right.

Download this zip folder with the plain front cover and stickers.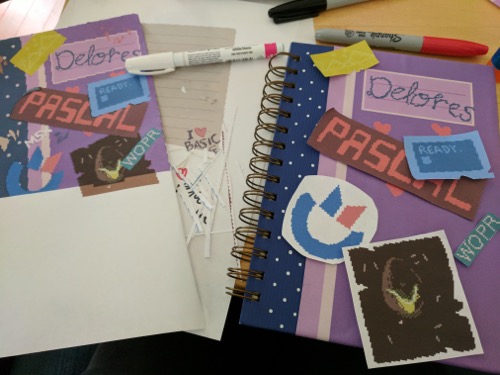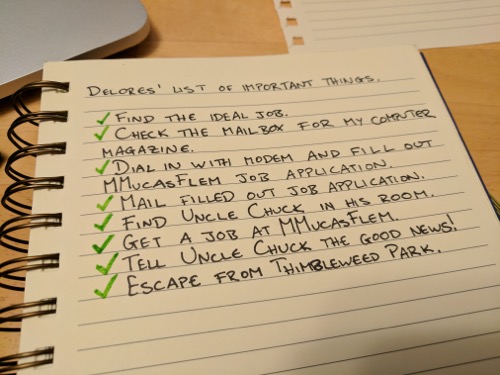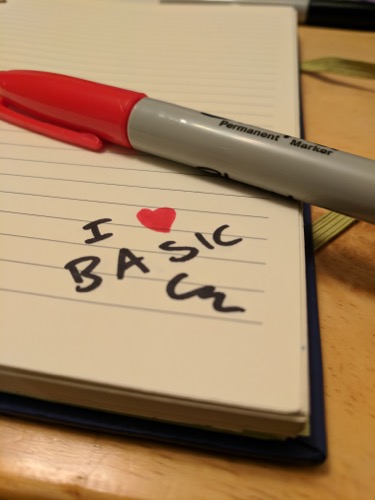 Get In Character
While cosplaying Delores, don't forget to practice your victory dance and learn to these classic quotes:
▶︎ "But I just want to design games."
▶︎ "If this were a Sierra On-Line graphic adventure, I'd be dead now."
▶︎ "It's my speck of dust."

Here's some pictures of me cosplaying Delores for inspiration.

"I'd love to talk to him, but I'm too shy, what with him being famous and all."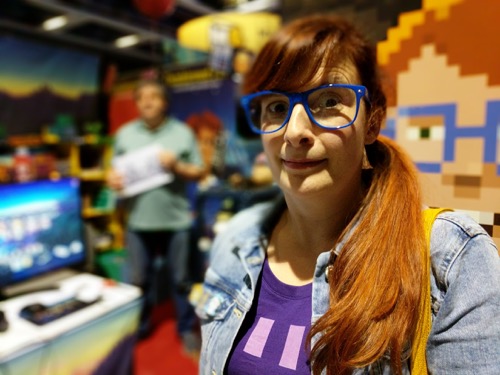 Do NOT attempt to match your head size to Delores, you'll fall over!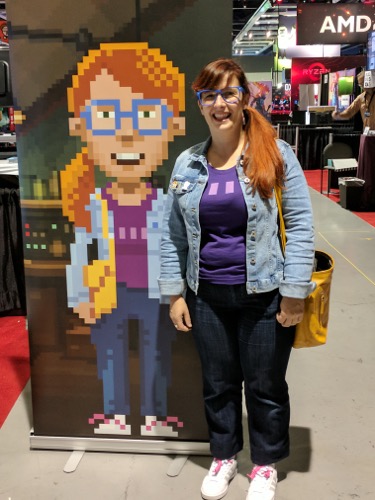 The wig really brings the costume to life and also signals to people around you that "yes, I am cosplaying a character!"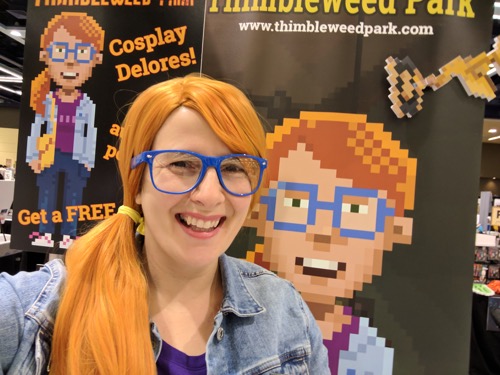 This is me on the left and Elise Kates, the voice of Delores on the right! So much Delores in one photo.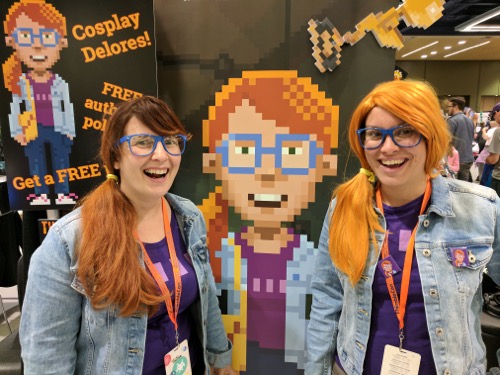 And since I have no shame, I attempted to reproduce the classic "I got a job at MmucasFlem games"-dance! Turns out doing a good moonwalk is REALLY hard! ;)
And that is all! Have fun being Delores!
---