by Gary Winnick
May 25, 2015
I know what you're thinking: Ron and Gary obviously have everything completely figured out, especially when it comes to being hip and knowing everything about the style of what all the cool kids are doing and wearing in the 80s. If only... I doubt Ron or I were ever called one of the cool kids.

There comes a time in any project where you realize something isn't working, so we've decided to make a design change to the background story regarding one of our major playable characters; Delores Edmund who has returned to Thimbleweed Park for the reading of her uncle's will.

Originally, Delores was conceived as likely being a middle-aged character, possibly a professional woman. Here's how she appeared in the original kickstarter: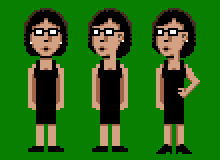 As we got down to the detail of designing the backstory for each of the playable characters, we quickly settled on their appropriate appearance and attire.

Ray and Reyes are federal agents who wear pretty straight laced suits, Ransome's a somewhat creepy clown, so he pretty much designs himself and Franklin.... well Franklin's a ghost, so however he's dressed it'll be in shades of blue and semi-transparent like the rest of him.

Dolores however, as a character, underwent the most significant change during the design process and we decided to make her younger, in her early twenties, on top of that she would become an aspiring game designer and programmer, likely working for a well known computer games company.

Here is her new character description:
Delores - Delores is in her early 20s and had been programming and taking apart computers since she was 10. She was self-taught with the help and encouragement of her uncle who has a (somewhat dated) technology background from building his fully automated Pillow Factory in the 1950s. Delores spent much of her free time hanging around the Thimbleweed Park Arcade and even got a part time job fixing the game machines. A year ago she got an internship at the prestigious and well known game company, MucusFlem Games, which turned into a full time job programming and designing games. Delores is a nerd, but she is far from the stereotypical anti-social geek. She has a lot of friends and isn't afraid to have fun on a Saturday night. She has attended every ThimbleCon since it started 4 years ago. Her favorite TV shows are classic Star Trek (she has a small crush on Kirk), Remington Steele and MacGyver. Like many people her age, Star Wars was very influential. Contrary to the wishes of her uncle, she has no desire to live in Thimbleweed Park and take over the family Pillow Factory business. She was happy to move away last year and enjoy the life of the big city. This has always been a sore spot for the rest of the family. Delores has an older sister, Margie, that is also in town for the reading of the will. Delores and Margie don't get along, but are polite to each other.
So at this point we want to develop a relevant (to the mid 1980's) and interesting look for her, her outfit and overall style and we'd like your help.

When creating characters, the way we usually work is to gather a lot of reference material from the internet and do quick sketches, exploring a lot of different directions at once. We just go wide and don't do a lot of self-censorship. There are no bad ideas during brainstorming.

We started to explore the new Delores, but thought it would be fun to open it up to all of you and have a little fun with it and step through the whole creative process.

So, please lend us a hand in figuring out the look of the new Delores. Your contributions could be through a written description, links to photos and other visual reference or even your own sketches.

Once we've gathered everything, we'll do another post putting it all together and then start exploring some tighter concepts. We'll go through the whole messy process step by step.

At the end, half of you will love her and the other half will hate her. Welcome to the world of game design.

Our lawyer (actually, he's just Ron's know-it-all barber) wants us to remind you that you are granting us complete rights to use, in any way we see fit, any original art, materials, works, or ideas you submit for this undertaking. Imagine this paragraph written in completely unintelligible legalese for the full effect.

- Gary
---