by Ron Gilbert
Dec 01, 2015
Not sure what to write about this week. So much is happening, but so much of it is spoilers. I think this week I'll do a little free writing. As I type these very words, I have no idea what this post is going to be about.

We've done three playtests so far and all of them have produced great information. The most encouraging part is they are producing roughly the same results. Players are liking and getting stuck on the same things. Those are easy problems to fix.

We did a little redesigning of the first 15 minutes of the game and added a simple two character puzzle to help teach that you can switch characters and that it's needed, not just a fancy back of the box bullet point. It also makes the very beginning of the game a little more interesting because you're doing some simple puzzle solving before being plummeted into the story.

The other thing we learned is that some of our dialogs are too long, so we're going through a pruning phase. Players thought the dialogs were funny and interesting, but there was too much information in there and it became easy to tune out. It doesn't matter how good, useful or funny your writing is if players are just skipping it faster then they can read it.

I half-expected this, but wanted to watch some players to make sure. I often know something is wrong, but I need to see it.

There is also a funny/creepy little gag that happens right at the beginning that everyone missed. If you miss it, the game becomes temporarily confusing, so we cut the gag. We'll probably reuse it later when it's not critical if players miss it.

David and I were chatting on Slack last night about keyboard controls. One of the questions raised during the playtest was if you'll be able to hit keys to select verbs. It was always our intention, but we hadn't figured out how to lay it out.

I as favoring a grid layout, where the top left verb was 'Q' and the next over was 'W', etc. David was arguing for Open being 'O', Close being 'C', use being 'U", etc. Whenever these types of discussions happen was always ask "What would Lucasfilm Games do?", so we busted out the old Lucasfilm game manuals to take a look. Turns out we did it both ways back then.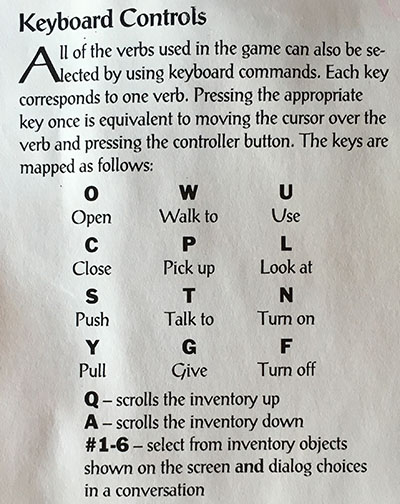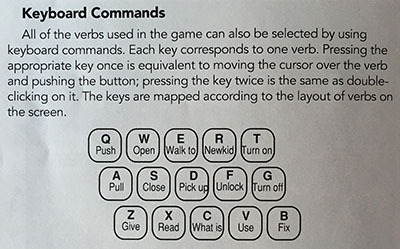 The first letter matching the verb has some issues, mainly Push, Pull and Pickup. It also has the translation problem. How did the translated versions of old Lucasfilm Games deal with that? Was it successful? What is your preferred approach to mapping keys to verbs? Do you care?
I'm the wrong person to ask, since I never use the keyboard. I was the only person in my World of Warcraft guild to do hardcore raiding and never use the keyboard. I am a mad mouse clicker. It's both a curse and blessing and a burden I live with.

Of course, the keyboard will be fully remappable, so you will be able to assign them to anything you want, but the default settings should feel good for most players.

Thoughts?
- Ron
---