by Ron Gilbert
Mar 29, 2019
Happy Second Thimbleversary, lovely Kickstarter backers and other Thimbleweed Park fan-a-renos.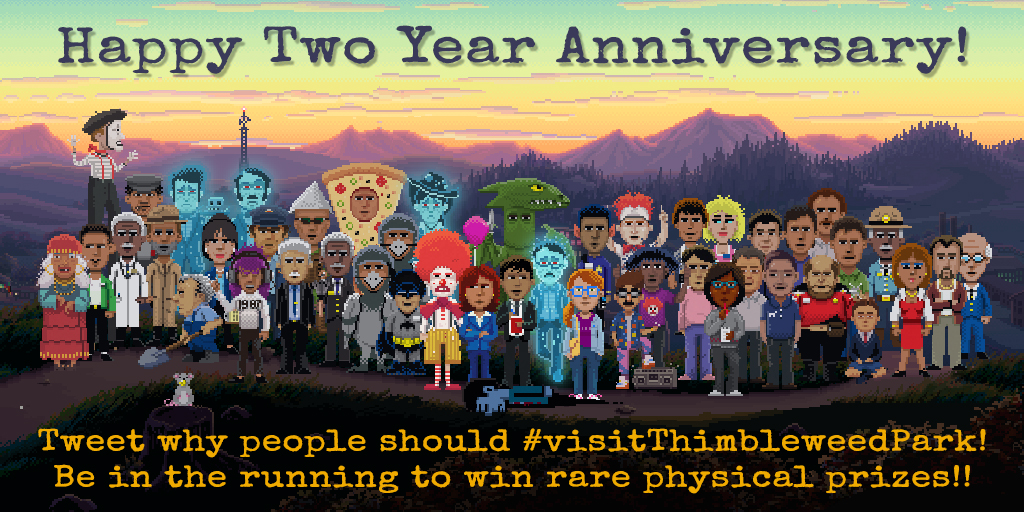 It's been two years since we launched Thimbleweed Park!
We've done so many things in that time, including:
▶︎ Launched on PC, Mac, Linux with Steam, GOG, Humble and Epic Games.
▶︎ Launched on Xbox One with Xbox Play Anywhere so you can switch between playing on your PC or Xbox.
▶︎ Launched on PS4 and Switch.
▶︎ Updated the game to include the much-loved in-game hint line system.
▶︎ Added playable arcade games.
▶︎ Released the Ransome Unbeeped DLC.
▶︎ Sent out physical rewards to all our backers, including 1012 signed big boxes.
▶︎ Launched big boxes for PC/Mac and PS4 and Switch, each with their own unique feelies.
▶︎ Created a great range of cool swag with Fangamer, including 4 T-shirts, the ViewTron, mugs, and a metal sign.

Fangamer has restocked the PC/Mac big box (for the third time!) and has a crazy deal where you can get the Cast-a-Reno shirt for just $10 when bought with a big box! They've also released a cassette tape version of the soundtrack - previously only available in the PS4 big box.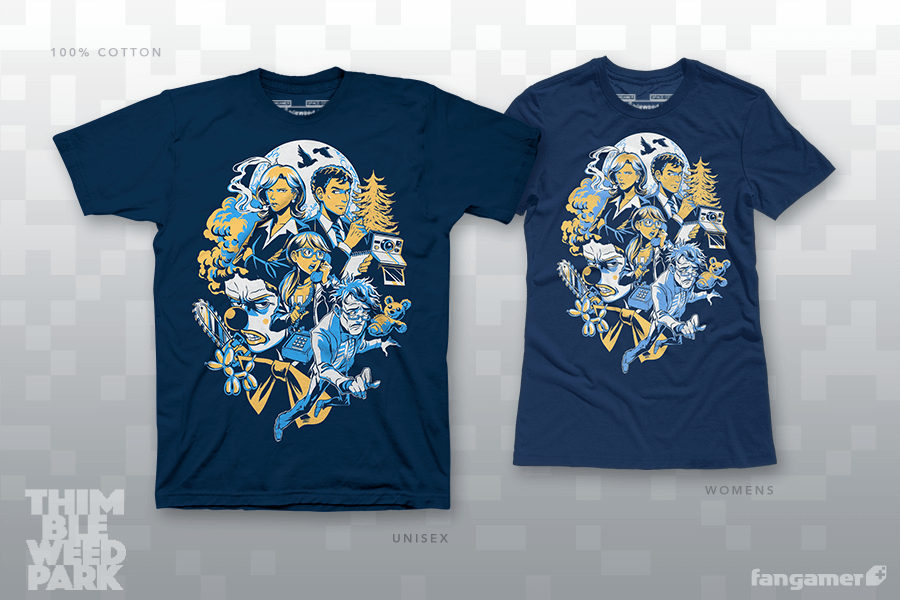 To celebrate two years of Thimbleweed Park, we're doing something a bit special. We want to show our gratitude for coming with us on this strange journey to a pixelated world of adventures. We're giving away rare physical swag. Including free shipping anywhere in the world!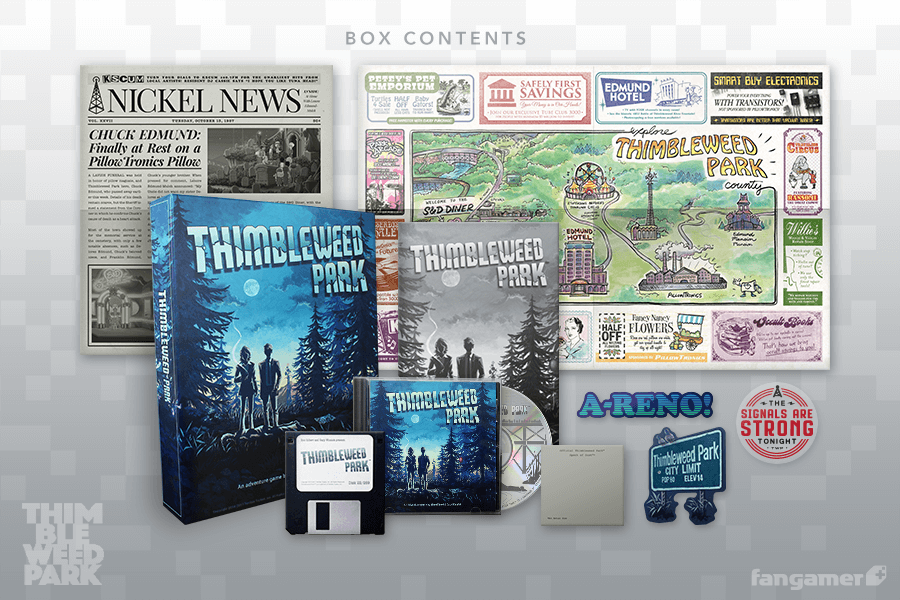 Four lucky people will get a rare big box version of the game. They can choose whether they want the PC/Mac, PS4, or Switch big box version.

50 other lucky people will get one copy of the physical phonebook. Originally included in the sold out Switch big box, and only available via this prize drawing.

All you have to do is create an original tweet using the hashtag #visitThimbleweedPark. Tell everyone why they should spend some time in Thimbleweed Park. And if you haven't been there, tell us why you're keen to go.

Key Rules
▶︎ Tweet using the hashtag #visitThimbleweedPark by 9am (Pacific) April 2 2019.
▶︎ Your tweet must include a statement as to why people should #visitThimbleweedPark
▶︎ Don't reply to our tweet, make your own tweet.
▶︎ Tweet must not be offensive or inappropriate (we reserve the right to judge this on an individual case).
▶︎ Don't violate Twitter's rules
▶︎ only one account per individual can be used to enter the contest. Anyone caught using multiple accounts to enter a contest will be ineligible.
▶︎ Maximum one tweet (entry) per day of the competition.
▶︎ Must be over 21 to enter.
▶︎ 4 randomly chosen people will win one big box of their choice (either PS4, Switch, or PC/Mac), including postage anywhere in the world.
▶︎ 50 randomly chosen people will receive a voucher to redeem on @fangamer for the physical phonebook, including postage to anywhere in the world.
▶︎ Winners will be drawn using https://competitionagency.com/tweetdraw. Once chosen, winners will be checked for validity using above requirements.
▶︎ We'll get in touch with winners via Twitter direct message with details on how to redeem your reward. You must respond within 48 hours to be eligible to get your reward, otherwise we'll draw another winner.
▶︎ All winners will be notified by April 16 2019.

---