by Gary Winnick
Aug 13, 2015
So in case you hadn't heard...."The current icons in the game are not final... ignore them!"
In putting together a functional pre-production wireframe I had to knock out a group of about 125 quickie icons™ that could be used to simulate real inventory icons necessary for game play.

Ron pretty much always says to both myself and Mark "This is temporary, don't spend more than 5 or 10 minutes on it!" Of course, as an artist I sometimes have a hard time with that (and don't get started on Mark doing something in 5 or 10 minutes - but I'm sure he'll weigh in on that when he writes an art post - sometime soon we promise).

In any case, I tried to bomb through the first pass of these keeping them as flat two dimensional versions although we'd decided to make the finals more three-dimensionally rendered the way the icons appear in Monkey Island.

Here's a smattering of a few of the before and after versions wireframe on the left, newly revised on the right.


Creating the first pass 2 dimensional wireframe icons has been a very helpful exercise in their design process, as creating icons tends to be more about being able to select an item or visual reference that clearly communicates the idea of what the icon represents.

In the case of the inventory icons, since they do represent some manner of physical item that exists in the world it still requires quickly designing the look of that item- in most cases before it exists in the game world. When brainstorming designing story and puzzles is usually when we realize we need a particular item and then backtrack to where it physically exists in the game world. This can become a bit of a hodgepodge as we weave together story, locations, characters and puzzles. FYI, the following example is made up for the purpose of this post, it's not really in the game (at least not yet) so is spoiler free.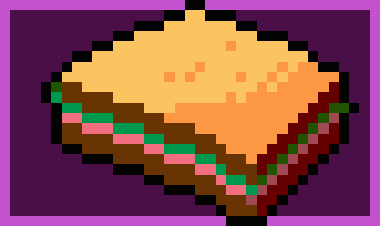 "Maybe Ransome likes ham sandwiches, let's have a dried up rotten one under his bed.... How about getting him one in the Diner, or maybe you need to get all the ingredients to make one...."
Additionally, it's pretty likely that when we create 'The ham sandwich puzzle' that asset does not exist anywhere visually in the production game art at that point or if it does it's generally at lower pixel resolution and a different angle then the icon needs to be.

Typically the first place we're going to create a visual representation of that ham sandwich will be in its inventory icon form, then retrofit the design of that item back into it's game world counterpart so the two somewhat match- after all, the player needs to be able to make the visual connection between them asap.

The first thing I'll do to create that icon is research it online by searching 'ham sandwich' or 'ham sandwich icon', additionally, if I find a good iconic representation of the item online, it really only serves as a starting point to get the idea underway, you have to be careful about copying anything you find too literally as the 'Ham Sandwich Icon Designers Union' (local 517) could end up be fairly litigious about their intellectual property.

Once you have your own good representation of that ham sandwich simplified and sketched out at the proper orientation you'll need to make sure it's rendered in the same style and color space as your existing icons as they belong as a group together and needs to share the same harmony and continuity.

Finally, given the nature of needing to translate the game into multiple languages, icons need to be pretty universally recognizable (at least as much as possible) so we try to keep them as as representationally visual as we can.

This can be somewhat problematic when it comes to an icon that mainly exists with printed text as it's primary identification, I.E. 'Last Will and Testament or Lab Report". In those cases you do your best to create an icon that's different looking enough from other similar items and depend mainly on the player mousing over it to get a text description to do the trick.

Great icon design is an art form unto itself and requires a particular type of shorthand visual designer. In many cases the evolution of iconic communication is based in our collective societal consciousness when creating that items' representation during a particular time in history.

Take the classic phone handset as an example, today, most people I know use a cell phone that looks like a flat rectangle, but every kid still recognizes the representation of a 1940's style rotary phone handset when it appears on their screen, it's become a pop culture representation to communicate an idea, the same will go for the graphical icon of an envelope representing email that will still be around long after the day we stop using paper post.

Additionally, a lot of game inventory icons are designed by the lowest common denominator, few projects (our's included) tend to have the budget to hire a dedicated icon designer, it falls to the most logical available resource, in our case that would be myself, and I'm really a comic book artist and character animator, so bear with me, I'll do the best I can.

- Gary
P.S. The icons are not final until the game ships...

---