by Ron Gilbert
Aug 11, 2016
With the amazing success of the Occult Bookstore book name crowdsourcing, we've decided to go back to the creative well again, but this time it's going to be more interesting (and more work).


The library in the mansion mansion contains around 100 books and not only do we need to name them all, we need two pages of text. When the player explores the mansion mansion library, they can look at any of the books and they'll get a close up showing two side-by-side pages. Players can't turn the pages, but the two pages can be from anywhere in the book. Imagine grabbing a book and just flipping it open.

Some of the books will be written by us and include background lore for the story and characters, but we also need books that are just fun to read and explore.

And that is where you come in. Make up a book, give it a title, and an author (that can be you), and write two pages of text consisting of around 100 words each. It's that simple. If your book is accepted, you'll also appear in the credits.

To submit your entries, you need to use this Google Form. Feel free to also post your books in the comments for everyone to read (or not), but if you don't submit them through the approved form, they won't make it into the game.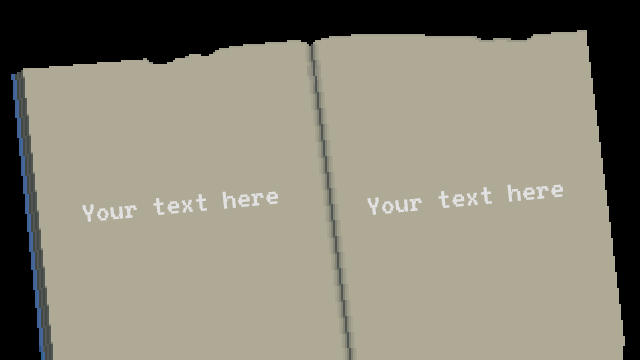 The rules are pretty simple:
1) Two pages of text. Each page is around 100 words and less than 650 characters.
2) Must be your original work. No public domain works.
3) Must have a title (25 characters or less).
4) Optional author and that can be made up, someone from history, or you.
5) Don't use copyrighted works or characters, including the author's name.
6) Must be 1987 appropriate.
7) Keep the content G or PG-13.
8) Books must be in English, but they will be translated.

Once again, submit all book entries HERE.

So... put on your smart glasses, grab a pencil, and most of all, have fun and be as serious or funny as you want.

The deadline is August 29th, 2016.
- Ron
---