by Ron Gilbert
Feb 09, 2015
I spent much of last week working on the Thimbleweed Park design, so not a lot happened in the code. Gary and I spent the time putting together the map of the world showing all the locations, or "rooms" as we call them.

I'm not sure why the term "room" crept into my lexicon for describing locations in adventure games. I don't know if it was because Maniac Mansion took place in the mansion, so it was natural to describe them as rooms, or if the term originated in early text adventures. SCUMM called them rooms and many of the commands used that word and it's just stuck.

As we've been putting together the puzzles and story, Gary and I have been keeping a big list of all the rooms in the game, but last week we finally put them together in map and starting making all the connections. Having a list of rooms is one thing, but when you see them all connected together, your brain (or at least mine) can start building an image of the world. Seeing them all connected together also points out problems with bunching or choke points.

An adventure game world should open up like an onion (well, an inside-out onion). As players solve puzzles they get access to more and more of the ever expanding world. It's good for dramatic reasons, but also helps with focus and making sure they aren't overwhelmed with too many choices too early.

Maniac Mansion had 36 explorable rooms, plus another 5 or 6 rooms for things like the title screen or the talk show set. Monkey Island had around 70 explorable rooms and another 15 or so close-ups, title screens, etc.

We've always thought about Thimbleweed Park being Monkey Island size in terms of the world, so we're shooting for 100 rooms and will probably come in at around 80 or 90. It's hard to tell at this stage. With Maniac Mansion and Monkey island, disk space was our number one limiter of size and with Thimbleweed Park, that's close to a non-issue. Our limiting factor will be the work involved in drawing and implement the rooms.

The map below includes all the major locations, and some will grow by 5 or 6 rooms. For example, Delores' Mansion is 3 rooms on the map, but it will end up being closer to 8 or 10. The pillow factory is another that will expand dramatically, as well as the circus and the hotel.

Now that we have a map, we'll start the process of adding, removing and editing. Some of these rooms won't make it into the final game because they'll end up being redundant, uninteresting, or the puzzle required for their existence was cut.

Please note: as with anything you see on this dev blog, don't become to attached.

It's also important to remember that these "rooms" scroll, so they can be, and often are, more than one screen wide.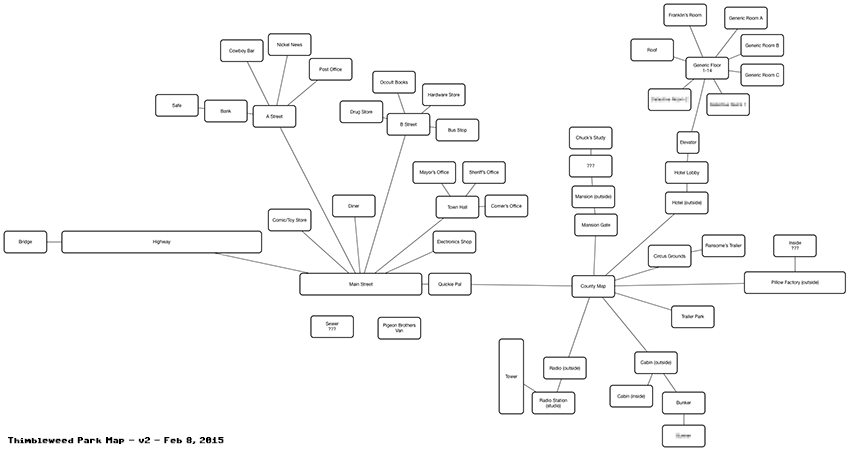 We've also done a few passes on the puzzle dependency chart. This is far from done, so it represents maybe 25% of the game. There are several disconnected nodes that will get hooked up as we figure out bridging puzzles and that will change the look and flow quite a bit over the next few weeks.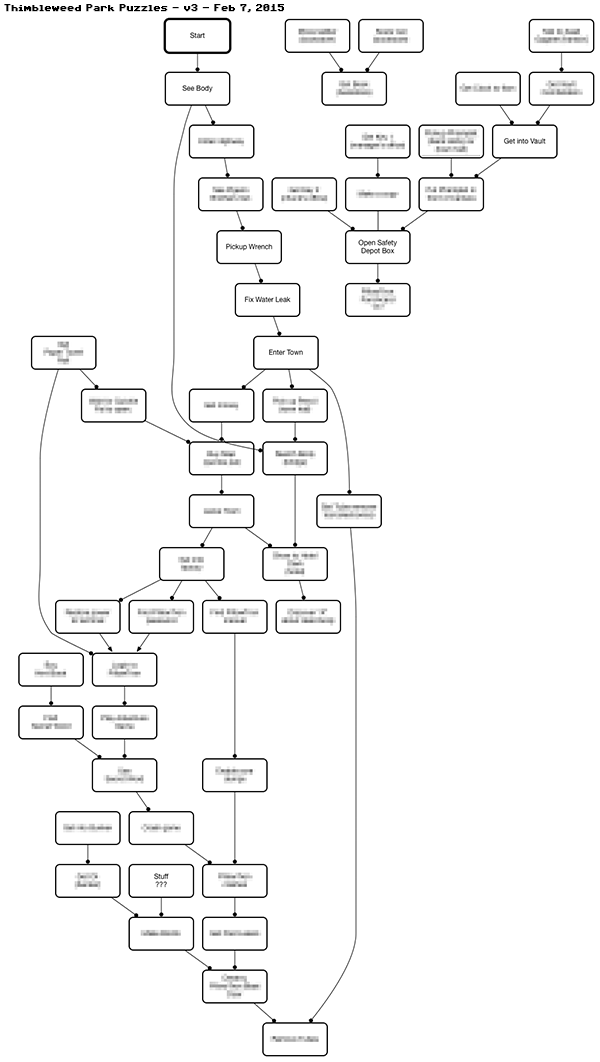 Enjoy! My plan for next week is to have the core UI working, including verbs, and probably room transitions, and Gary's plan is more concept art while we both noodle away at puzzles.

---