by Gary Winnick
Jun 01, 2015
So my dream team on the art development side of Thimbleweed Park is a reasonably short list, consisting mainly of people we've worked with in the past on a number of our graphic adventures, in particular artists who were instrumental in making the SCUMM games around the time we created Maniac Mansion, Loom and Monkey Island.

At the very top of the list is Mark Ferrari and we're amazingly excited to announce that he is now part of Team Thimbleweed and will be doing most of the backgrounds. Mark was the background artist for the incomparable Loom and was also responsible for the stunning backgrounds on Monkey Island 1. Mark might truly be the most talented background artist I've ever worked with.

It's hard to contain our excitement of having Mark on board.

Here is one of the tests he did for the entrance to the circus Ransome lives in. It's a long way from being done, but you can see where he is going with it.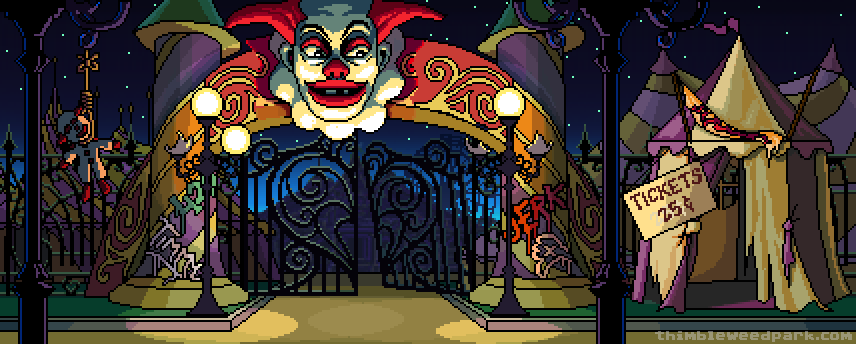 Keep in mind that this is just a initial samples he did for us and (although they might not look like it) are still wireframes. Ron and I are still working to determine the final nuances of the graphics and although we'll be showing off a number of examples, most are still placeholder art, we'll let you know when something's actually final, we promise!
As one of the premier environmental artists in the gaming industry, during our tenure at Lucasfilm/Lucasarts Mark's early work with us is considered legendary. In the 80's he managed to stretch the look of 8 bit color palettes with innovative dither techniques, lighting and layout. Mark also developed a truly unique approach to color cycling/palette shifting unlike anything seen before or since.

Remember, this isn't animation in the traditional sense, rather it's all being done by just organizing and changing palette registers in sequence. At that time we didn't have the computing power necessary to just make it an animated .gif... This was mind blowing stuff!
I first met Mark at, of all things, a science fiction and fantasy convention being held at the San Jose Red Lion Inn (shades of ThimbleCon). Everyone was talking about some guy in the art show who drew amazing stuff in colored pencils... I took a look at Mark's work and was amazed, they practically looked like oil paintings done in prismacolor pencil.

Being the art director of Lucasfilm Games at the time had its perks and I was immediately introduced to Mark. My memory's a bit fuzzy, but I don't think Mark really had any computer experience at the time. In those days I invited candidates out to Skywalker Ranch for lunch and an art test working on an IBM PC in dpaint.

To say Mark was a natural at computer graphics would be an understatement, he was constantly breaking new ground, first on Loom and then on Monkey Island. As with most of the art staff from those days, Mark remained friends with Ron and I over the years.

Having Mark on the team will move the art more in the direction that will end up being half way between Maniac Mansion and Monkey island as he'll be taking over finalizing most of Thimbleweed Park's background art development. We haven't completely finalized the look, and this is a little different from the Kickstarter art, but we like where this is going.

In any case... welcome to the team Mark, it's great to be working with you again!
Head on over to Geekscape for interview with Ron and I.

- Gary
---