by Ron Gilbert
Jul 27, 2015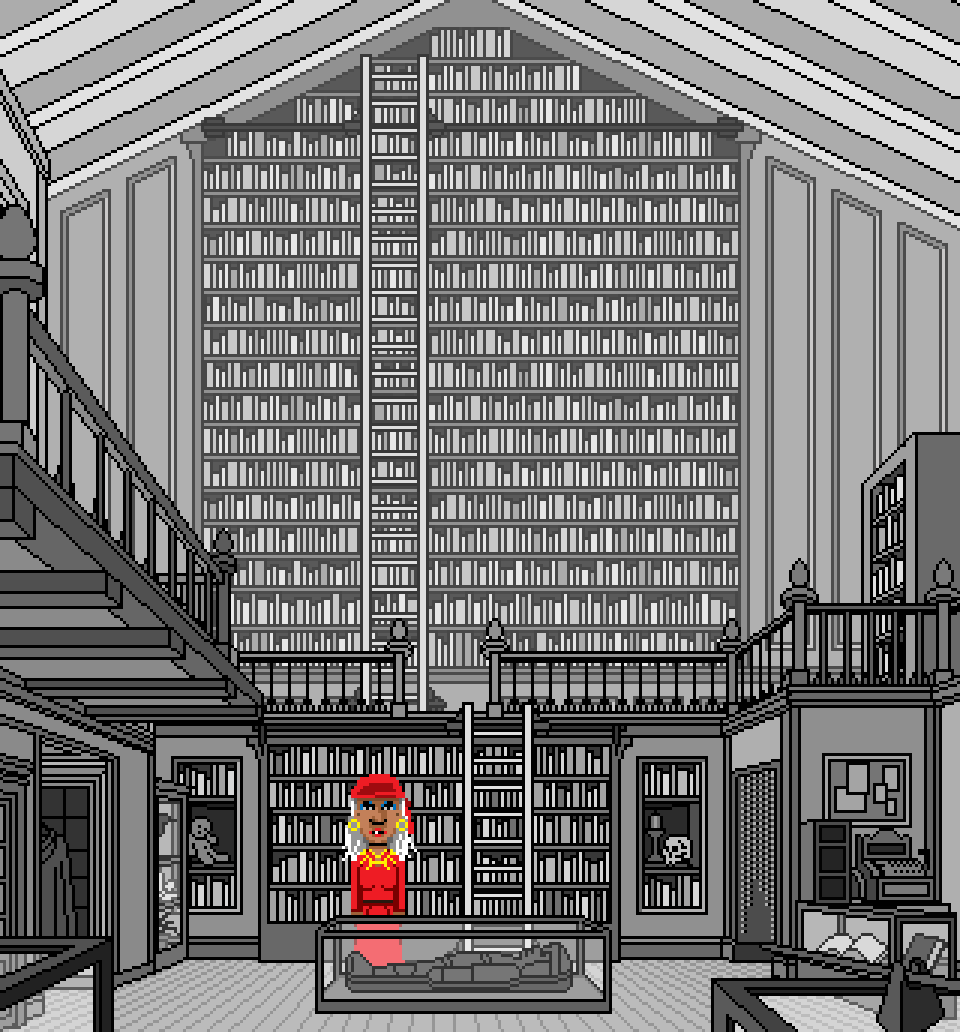 Here is the wireframe for the Occult Bookstore. I know what you're saying: "Whoa, that's a lot of books, how are you going to come up with names for all those books when the player scans their cursor across the screen?"

Funny you should ask that.

I'm a big fan of the Tom Sawyer school of game design. Why paint that fence if you can get all your friends to paint it for you, or in this case, name all those books.

There are close to 300 books in the book store. They are too small to be individually touchable, so 2 or 3 books will probably make up the hotspot, which should be fine. There is a puzzle involving finding a book, but the player won't be tasked with the monotony of scanning all the books to find the one they need. There will be an object that locates the book, and that is the real puzzle. All the books having funny names is to make the store fun to explore.

And this is where you come in... We need names for all those books. The rules are:
1) The name has to be less than 35 characters.
2) It should be a book you'd find in an occult bookstore.
3) Ignore #2 if it's really funny that the book is found in an occult bookstore.
4) The title can include a "by ..." if the total length is less than 35 characters.
5) Include a "by ..." only if it is part of the humor.
6) Pay attention to #2, we're not just looking for funny book titles, but ones that would be found in an occult bookstore.
7) #6 is really important.

Post your submissions in the comments.

- Ron
UPDATE
I'm closing the comments. There are well over 1000 comments and probably 2000+ useable book titles. What great fun! Thanks to everyone for contributing! There are some really funny titles that I LOL'd at. And if you know me, I don't use LOL very lightly. When I LOL, I really mean it. LOL.

The next step will be to copy all the book titles from the comments and drop them into a spreadsheet, remove the bad ones (sorry if I hurt your feelings) and wire them in. Given the number of books, Mark is going to have to adjust the room, probably by making it comically tall. The only skyscraper in Thimbleweed Park is the Occult Bookstore.

Love it.

Please don't leave book titles in the comments of other posts, I'll delete them. Don't screw with me!
LOL
Best. Backers. Ever.

---