by Gary Winnick
Apr 09, 2015
Making a graphic adventure is sorta like making an animated cartoon. You have a world of backgrounds and stage pieces, some are interactive, some are just static set dressings that exists to reinforce the world and story.

Set dressing helps tell the story and gives the player valuable clues about where to go and what to do. Given the resolution we're working with on Thimbleweed Park, and we're paying homage to our earlier classic adventure games, most items are going to be displayed in some sort of straight on view, as odd angles are a bit harder given the 'jaggies'.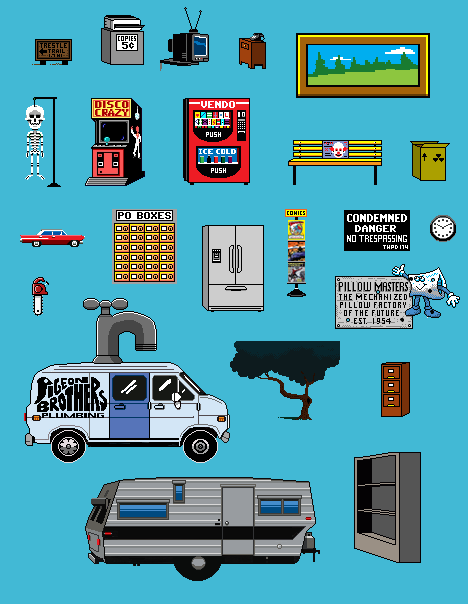 Once again, we're pretty much dealing with icons, we want the player to look at and immediately recognize their function: we really don't want people saying "What the hell is that ? Looks like a phone? Or maybe an adding machine? No, wait, it's a banana!"
Once we have our basic design, the first order of business, much like in film, is to make lists of all the visual assets, this includes characters, locations and all the objects and props.

Each of these needs to be designed, from a simple line rendition to fully rendered object. Use and location determines size/scale relative to the scene, angle, lighting and shadow and what if any animation might be required and each of these is layered onto the item as we go. Even though we're dealing with a limited number of pixels and colors, I think there's something very stylistic and recognizable about how we're approaching the art and how the resulting objects will look.

As we wire up a room and its associated puzzles we may decide to add more items or props, maybe because it's funny, makes the scene more interesting, or helps direct the player.

The ability to change and iterate items on the fly is a luxury we have over traditional film animation given that it's reasonably easy to modify 2D art in our style, once again, the power of Ron's engine and a versatile scripting language make all the difference... Hamster in a microwave anyone?...

- Gary
---