by Ron Gilbert
Jul 16, 2015
W00t! Time for a video. It's been a while and I enjoy making them just about as much as your enjoy watching them.

We got one of the first final rooms from Mark Ferrari™ in the game a few days ago and we're dying to show people. We've also been doing some work on lighting using shaders and magic. It's first pass, so there will be a lot of tweaks and changes, but it's looking really promising.

All the inventory icons are still temp art, so ignore them. I SAID IGNORE THEM!
We started out with a quick wireframe version of the QuickiePal, just so we could get a sense of how the room fit into the overall game, how wide it should be and other very basic layout issues. It's not worth spending too much time on the wireframes since we want to have the freedom to cut or completely redo the room without any loss of work. As soon as you've invested time in something, it's hard to throw it out, even if it's the right thing to do.

One of the changes we made as the move the building over the right so when you entered from the left, you weren't immediately at the building. It feels less cramped with a small parking lot.


After it had been in the game for a couple of months, Mark took a quick pass at a tight layout in black and white. He likes to work in black and white so he doesn't spend valuable time on trying to figure out colors. Hopefully we can get Mark to do a post on his process. It's all bla-bla-pixel-bla-bla-vanishing point-bla-bla to me.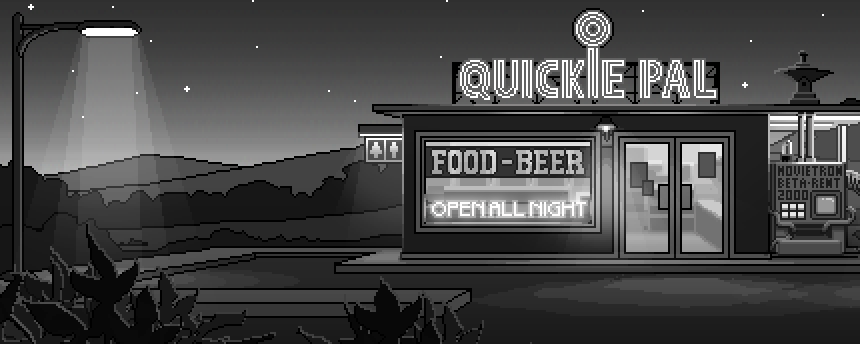 After the black and white had been in the game for around a month, Mark went on to the final stage seen in the video. We take these small steps so we're sure of everything before too much time in invested. Mark spends a lot of time on color and light, so making changes to the black and white version is quicker.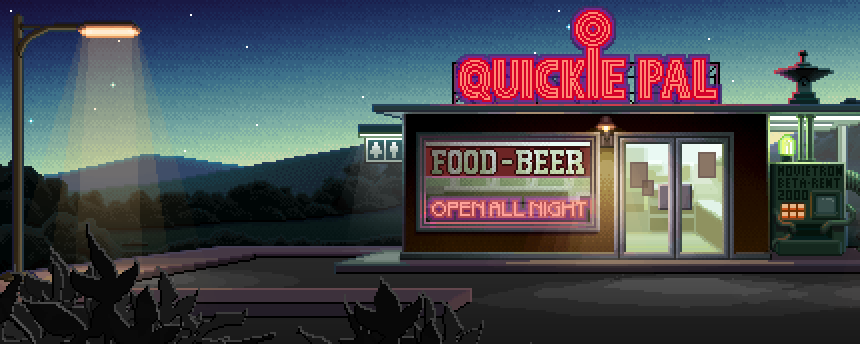 There will be a polish pass on all of the final rooms, but that won't happen until everything is in the game, probably around January.

- Ron
Why are you still looking at the temp inventory icons?
---