by Gary Winnick
May 13, 2015
One of the things you discover working on a good sized adventure game from the perspective of creating the art assets, at least for me, is that there's a lot of first pass visual design that needs to be done to get a feeling of where you're actually going.

Typically when I start a project I'm full of all kinds of grandiose visions of what the game might look like. The temptation associated with this is to spend way too much time - certainly in the beginning trying to realize every little detail and nuance of a scene. This can easily lead to too much time and effort for a given concept or preliminary image, although some of this can be great (and helpful to set the overall tone), is it really necessary to know how many rivets are on the side of a computer panel, or arrange all the flowers growing next to a stream into truly aesthetically pleasing shapes. On top of that, we're only human, and the more time you spend on something, the more you're loath to give up on it and start over.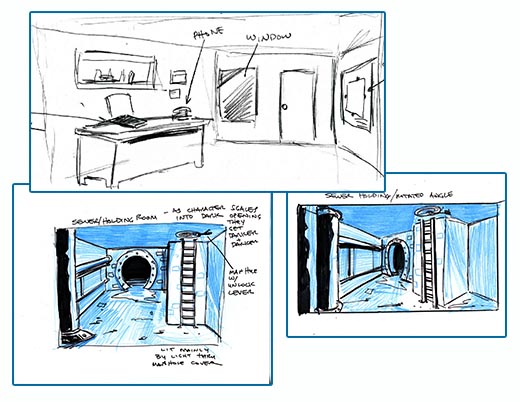 Sometimes for the sake of understanding where you're going you just need to dive in and limit yourself to a quick 15 minute sketch to understand basic layout, perspective and shading. It's amazing how freeing this can be, especially when you might be stuck.

At this point we have a pretty clear idea of the direction we're going with the story and the basic look, and the current task for the art department (namely me) is to get Ron and David as much wireframe art as possible so we can get a good working walkthrough before we really get into the swing of full scale production.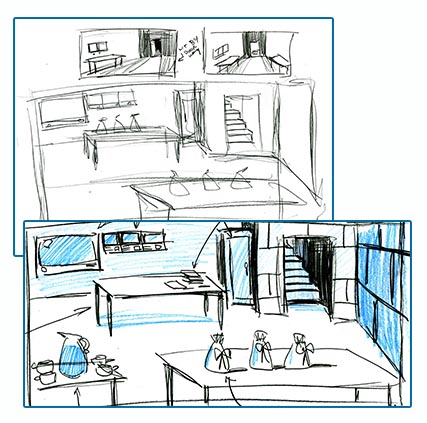 I learned early on in my career, mainly through working as an assistant to the likes of Neal Adams, to just grab a pencil and a piece of bond paper and rough out as many approaches to a scene as quickly as you could in an hour, it gets your juices flowing and helps identify problems early on.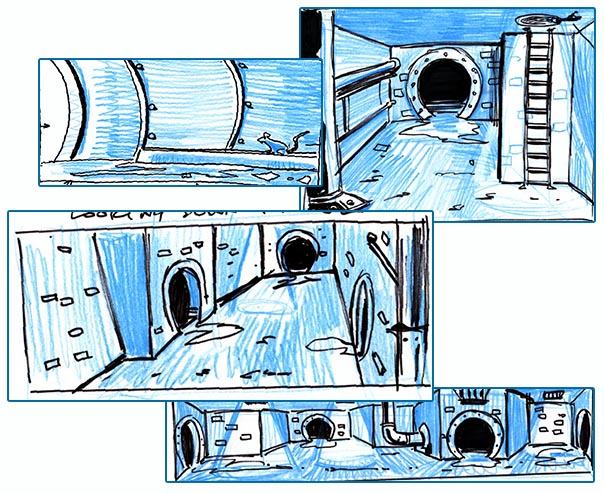 When you're working on a long term (a year or better) creative graphics heavy project, whether it's a game, comic or movie, you never want to get too attached to anything- at least on the visual detail side. You need to build a framework that allows you to easily iterate and change for the better.

Additionally, if you're working as part of a team. hopefully it's a group of people whose opinions and ideas you respect- obviously I'm very lucky in that area, and wouldn't rather be doing anything else. Anytime you're responsible for the visuals of a project, especially a commercial endeavor you're not creating that in a vacuum (at least I hope not), you need to be in a synergistic team relationship that helps make your vision stronger as a result of collective brainstorming and evolve as you go. As Chip Morningstar once put it "You need to feel like your team is running along ahead of you with a steam roller, instead of chasing you with one".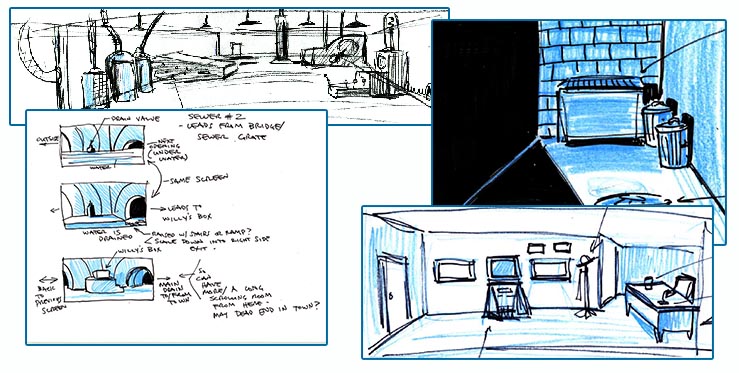 Creating a game as complicated as Thimbleweed Park, and make no mistake, although we're working with an 8 bit art look- this is a complicated game from the perspective of the amount of 2D screens, the feelings we want them to convey, the number of characters, stories, puzzles and situations means you have to be able to easily change and adapt the visuals as you go. With limited resources, the quicker you can get on the right track, the more time you'll have to polish the final result.

---