by Ron Gilbert
Sep 21, 2015
I'm a firm believer in automation. Humans screw things up and the more times a human needs to touch something, the more opportunities there are for something to get screwed up. This is very true of build processes. Building a game should be a single step and complete handled by scripts; less opportunity for humans to get in the way.

Build processes are boring and monotonous and anytime a task becomes boring and monotonous it's ripe for humans to screw it up as our brains turn off and our mind drifts.

Automating the build process of code is relatively straightforward. You create a script (bash or .bat file) and execute all the steps. Automating art is a lot harder. Art is made up of a lot of little pieces and art tools are notorious bad at exporting as an automated process. There is a lot of clicking and naming files and each of these steps begs for humans to screw it up.

A few years ago, when I was working on Scurvy Scallywags, Clayton and I faced a very similar problem. We had a ton of little art assets all in Photoshop files and layers. If the art changed, I'd have to find the change and save it as a .png. Photoshop has a "Export Layers to Files" option that is all but useless since it requires typing in of filenames and exports as numbered sequences. It's also painfully slow.

Then I stumbled across a program called Slicy that takes a Photoshop file and exports .png files based on how you name the layers. It was like magic and (quite literally) change my life. If anything in the Photoshop file changed, I'd drag the file into Slicy and it would spit out all the .png files, named exactly how we needed them.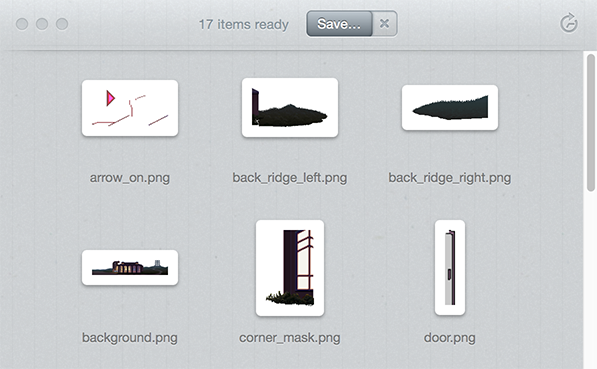 I would then type 'munge_art' on the command line and everything would be run though TexturePacker and was in the game before you could say "robot overlords".

I adopted this same practice for Thimbleweed Park. The amount of art in the game compared to Scurvy Scallywags is staggering. Close to one hundred rooms, each containing a gaggle of objects and parallax layers, all needing to be saved out and packed into sprite sheets.

The Photoshop files for rooms are organized into layers as follows: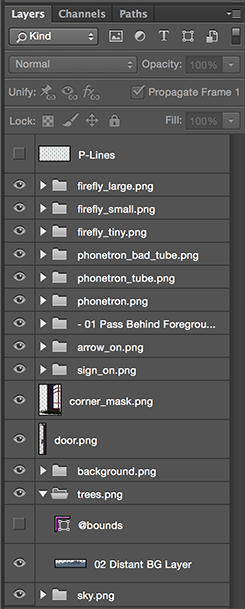 You can download the actual Photoshop file that Mark created here). Please keep in mind that this file still has to pass through a polish phase and is not done yet. There is even some programmer art in there. Programmer art is when the programmer will quickly add something to get functionality working, then it will be replaced later by a "real" artist.


The @bounds layers you see tell Slicy what part of the image to export and the name of the layer is the .png file that's created. TexturePacker then takes all the .png files and packs them together (with empty space remove) to produce a spritesheet that is used in the game.

I like this process because there is little chance of error. If Mark makes a change to the room art, we don't need to hunt down the layer and save it, we just drag the .psd file into Slicy and we're done.

- Ron
---