by Ron Gilbert
Jan 12, 2015
Thanks for all the feedback in the last post about replayability. Bucking the trend of Internet comments, it was all very interesting and insightful.

A couple of people mentioned the dead-ends in Maniac Mansion, and I want to reiterate what Gary and I said in several interviews: There will be no dead-ends. The design of Thimbleweed Park will follow my rules of adventure game design, formulated after Maniac Mansion and before Monkey Island. Dead-ends in adventure games are the product of bad game design, nothing more. IMHO.

So, our goal is to have different endings, but not require players to replay the game (or play meta-games with save games) to see them. I agree with some of the commenters that people don't have the time or patience these days to replay a game to get different endings. The Stanley Parable took a very novel approach to this, but that whole game was very meta, so it worked in a way that won't for Thimbleweed Park.

One difference between Thimbleweed Park and Maniac Mansion (and The Cave), was that in Maniac Mansion (or The Cave), you picked the characters you wanted to play with before the game started. In Thimbleweed Park, you are always playing with 5 characters. You don't get to choose to be Ransome the Clown. You do get to choose how much you play with him and how much of his story you explore, but he and the other characters are not optional.

Please keep in mind that this is just what we're currently exploring. It might change as we flesh things out over the next few months.

When the game starts, you will be able to switch between the two detectives, but you won't know about Ransome, Delores or Franklin yet. There will be a small 3 or 4 room intro that sets up the story and allows players to get used to and explore the interface (there will be no tutorial, but more on that in another post, so hold your rage/support).

On to the good bits...

Once you get into the town and start investigating the dead body, you will meet characters who will tell you about Ransome, Delores and Franklin, and when they do, you will play a short flashback that sets up their stories. When each flashback is complete, you can switch to them at will.

The main story is broken up into 3 acts, with the final act triggering the ending of the main story. Putting it in globally understood Star Wars terms: blowing up the Death Star was act 3, the medal ceremony was the ending.

Each of the 5 characters have their own sub-stories consisting of 3 acts. Character first acts are told through the flashback, the character's second act is required as the puzzles are intertwined with the main story's second act, but the character's 3rd act is optional. You can choose to play them or not.

Also, the acts are not linear, you will have to switch to other characters to complete puzzles, so it's not like players will be able to play all of Delores, then switch to Franklin and play all of his story. Like any good adventure game or story, it's all intertwined, related and connected.

When the main story ends, there will be a satisfying ending, discovery of the killer, justice, closure and all that, but you can keep playing. If you haven't completed all the character stories, you can go back and do those. Once they are all done, you will move into a small playable epilogue that ties everything together.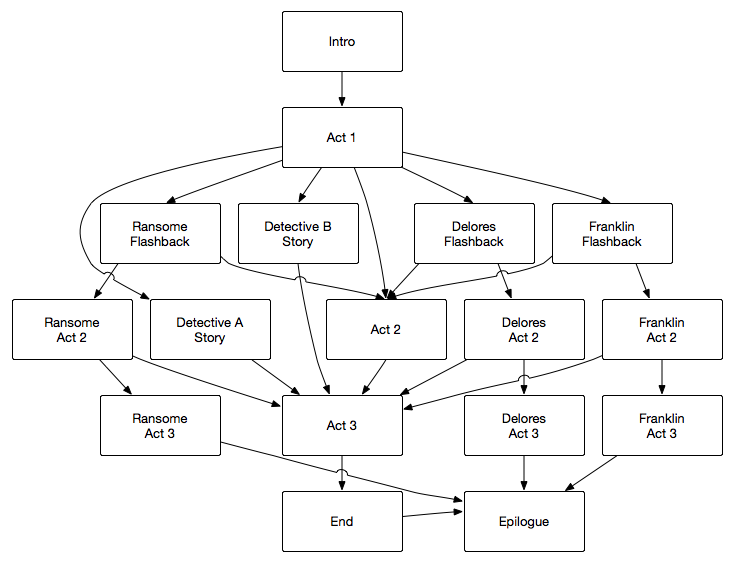 I know it seem complex, but once you're in and playing, it should feel fairly natural.

Please keep in mind that we're still brainstorming and exploring ideas. This is part of the messy screwed up process that is game design and making stuff. Sometimes things work, sometimes they don't and you change them and pretend like it never happened.

- Ron
---