by Ron Gilbert
Jan 27, 2015
"Pillows made America great! Pillows helped win the war!" - Uncle Chuck
Gary and I did a daylong brainstorm session yesterday with the objective of taming the design.

The problem is we had too many ideas bouncing all over the place. We had the core of the story figured out pre-Kickstarter, but all the loose threads never really came together into a unifying theme. We'd come up with good puzzles, but they didn't feel like they were supporting the story. They were just fun puzzles.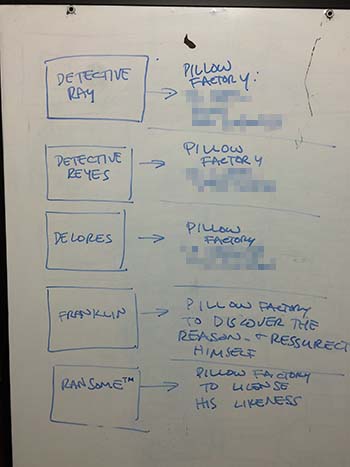 We started by listing all five playable characters and asking ourselves "What is their story? Why are they here and what do they really want?" They can all want different things, but they have to be related and come together to make one larger and stronger story. From a puzzle standpoint, it also helps if they are all driving towards the same goal, even if for different reasons.

It was time to strip everything away and rebuild it.

The pillow factory has always played a crucial role in the main story's climax, so we started by asking "Why do each of the playable characters want to get into the abandoned pillow factory?" If we gave them all the same puzzle objective, they (and the player) can be working towards the same goal. Each character is looking for something different, but it all leads to the pillow factory. In Maniac Mansion, all the kids were there to find Sandy, so the player focus was the same.

The other issue we faced were the two detectives. We hadn't fully fleshed out their stories or personalities. They were there to solve the murder, but we didn't really know who they were beyond a simple paragraph.

We wanted to make them different, not just male and female carbon copies of each other. They needed to have very different goals and deal with situations differently. We also felt it would be more interesting if they were working together, but also at odds, maybe some deep mistrust. Doing that would heighten the mystery of what was going on in Thimbleweed Park.

So we wrote all our ideas on two whiteboards and started to talk through everything. We'd have an idea that made sense for a while, then we'd abandon it in favor of a better one. It was a day of bouncing between "we're screwed", "this is genius", "we're screwed", "this is genius", goto 10.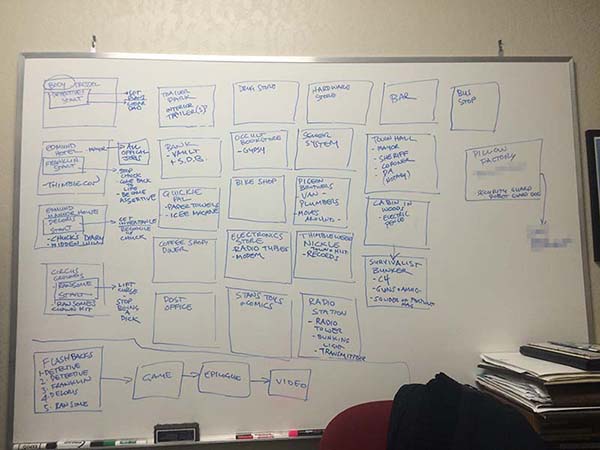 The end result was we could talk through the story from beginning to end. We had five (six if you include the murder) different stories that all came together, then briefly separated for the epilogue. All five stories are serving the same overarching theme, yet have their own little "moral" and meaning for the character.

This morning I set out to write it all down as a linear narrative, much like a walk-through (hyphen? no hyphen?). If we didn't know the details of a puzzle or location, I'd write something like "You need to make the phone ring (TBD) so the hotel clerk leaves his desk". Seven pages later, it was all down and it all made sense and fit together better than it seemed to the end of the day yesterday.

The document is filled with (TBD), but now it's just a matter of filling those in over the next few months.

And lots of puzzle dependency charts.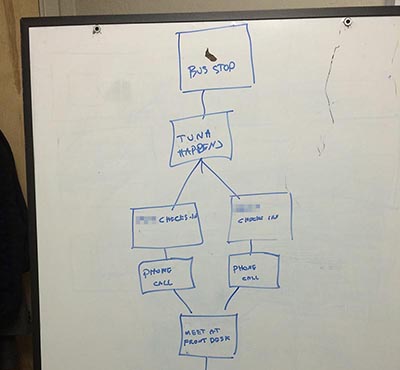 * None of this is written in stone, any of it could change, names and locations are just temp brainstorm, so don't get too attached to it. By the time the game ships it will be a space shooter.

---