by Gary Winnick
Jan 07, 2015
Once Ron and I established we'd be developing a title that harkened back to Maniac Mansion, we started playing around with the look and tools.

The most obvious being photoshop which is kinda the workhorse of the 2D art industry. I've been using it mainly for my comic book pages and other project coloring since I'd been primarily drawing on paper, scanning my finished inked black and white pages and completing them digitally to add color and text.

In the case of Thimbleweed, the style really lends itself to just drawing everything digitally from the start. Although I still spend time figuring out my initial concepts and layouts as rough sketches or storyboards.

Here's one of my first exercises as we're rapidly coming up with a wide cast of characters...

For the concept of ThimbleCon, we want to have some events happening in town that bring a number of interesting and unique characters into the mix.

People might wonder given the size of the Edmund Hotel some of what's going on to help keep it in business. The short answer is a bunch of small eclectic venues. Given the hotel was originally built during the town's heyday, now long gone, there's an incentive on the part of the last vestiges of Thimbleweed's founding fathers and mothers to not go quietly into the night (you'll find out more about all that later).

In any event, by hook or crook the hotel's struggling to stay in business by any means possible and its a perfect venue for a small local sci-fi, comic and gaming convention in the 80's - additionally having started my professional career in the comics industry in the 70's and 80's it takes me right back to my roots.

- Gary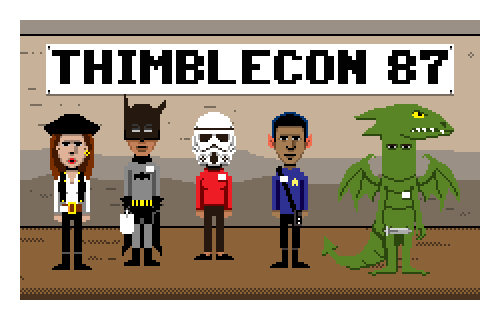 REGISTRATION FOR THIMBLECON 87- to be held at the scenic Edmund Hotel in downtown Thimbleweed Park will be open soon: Last year we had a record turn out of 62 paid attendees - and are hoping to surpass that - With booths from Stan's Toys & Comics, Comp-u-venture (formerly 3 guys computer games, formerly 4 guys computer games) and a sales rep from a major distributor. We'll also be holding our traditional costume contest. Look for registration forms at Stan's and at the Edmund West Willow Ballroom. Remember snacks and refreshments will be served by Chris Sprouse's mom while they last- so get there early.
---