by Ron Gilbert
Jun 16, 2016
As a thanks to everyone who has been following the Thimbleweed Park blog and helping out with the game, we're going to giving away 5 entries into the Thimbleweed Park phone book, complete with (optional) voicemail message (but who wouldn't want to do that).

Guess how many people in the phone book (as of right now) have uploaded a voicemail, from A...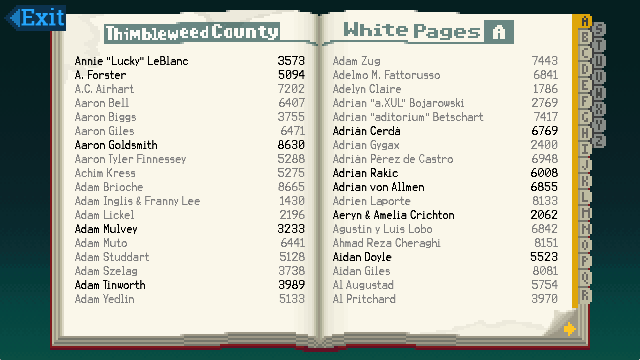 ...to Z...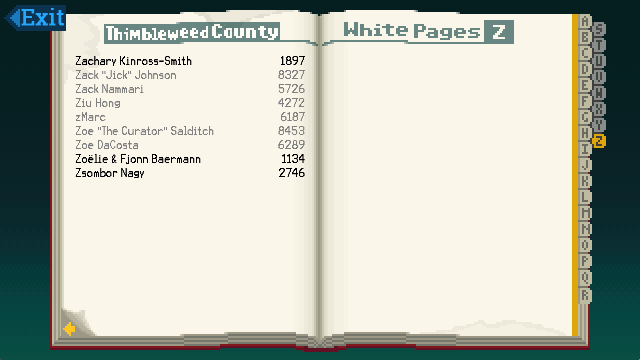 The contest is open to everyone, even people who already have an entry.

Five closest guesses get an entry in the phone book and the opportunity to upload a voicemail message. Ties will be resolved using officially sanctioned D&D combat rules (the D20).

Post your guess in the body of your message in the comments section.
In order to win, you must fill in your email address in the email field. DO NOT put your email address in the body of the message. If you post multiple guesses, only your last one will count.

I won't be cross posting this on Twitter, since they have their own contest... so shhhhhhhhh...

We'll pick a winner Monday morning.

- Ron
P. S. We'll be giving away another five entries next week.

CONTEST IS CLOSED
WE HAVE OUR WINNERS
The answer was 1100
Congratulations to...

P.Coltau
Nico
BertL
Mathias
Alberto

You will be getting an invite email in the next few hours.

---