by Ron Gilbert
Dec 28, 2015
One of the Kickstarter reward tiers was to appear in the Thimbleweed Park phonebook. During the Kickstarter, someone in the comments suggested that it would be neat if they could also record a voicemail message.

Not being above stealing a good idea, we quickly added that and pretended we thought of it all along.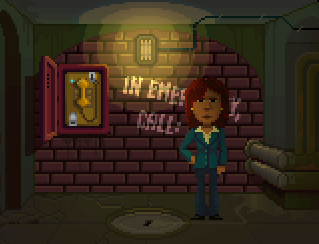 We've delayed gather all the names and voicemail messages because we wanted to make sure we were getting all the right information. We've implemented the phonebook and puzzle with dummy information and now we're ready to start gathering names and voicemail recordings.

If all we were gathering were names, it might be easier, but we also need to gather recordings and have a place for people to upload them, plus we wanted to build a system that lets people go back and change the recording if they want.

I built such a system over the past few weeks, and now we need to test it. Nothing would be more embarrassing than having to ask 3000+ people to re-upload their recordings.

Which brings us to YOU!
Are you willing to help test out the voicemail system? You don't have to be a backer to help test. If you're willing to help, follow this link and give us your email.

Testing will start in a few days.

Actual voicemail site will go live mid-January.

UPDATE UPDATE UPDATE BREAKING UPDATE
Testing has ended. Huge thanks to everyone who helped out. We found a lot of bugs that can only be found by swarming masses!
Here is the breakdown of around 500 readers in response to their primary language.


Thanks again.

- Ron
---