by Gary Winnick
Mar 23, 2015
Ron and I are now in the throes of what we call "wireframing the game", which really is just another word for prototyping a playable walkthrough.

This is a first pass at putting in preliminary art for all the rooms and their associated puzzles, then connecting everything so we can walk through all the contiguous locations to get an idea of what the game's really going to feel like. How long it takes to walk from one location to another and does the game give the player the right mental map of the world?
This is something we want to do fairly quickly. In the old days, with Maniac Mansion, we actually created a version on paper to give us a rudimentary feel of how everything was connected, but now we have the tools to do it all digitally.

We've always called these "wireframe rooms" because they just need to be laid out in flat color and composed with their most prominent necessary features in place. All the rendering detail, as well as a lot of additional window dressing (plants, non-essential objects, patterns, dither, and the like) will be added as we move into more final versions. I think we also call these 'wireframes' because at this point they can now actually be "wired-up" into the game engine.

Fast quick versions are good because we might not like how they feel once in the game, and we don't want a lot of time invested. We need to be able to throw out a room and the art with no investment. We don't want to keep a room that is wrong just because we've spent time on it.

Here's a little progression on the Diner exterior and interior, doing a bit of a take on the classic 1950's diner. At this stage I stay with a number of basic geometric shapes: circles, rectangles, triangles, etc. As things evolve, we look at different positions for the camera, scales, and layouts, but right now I like to keep things pretty basic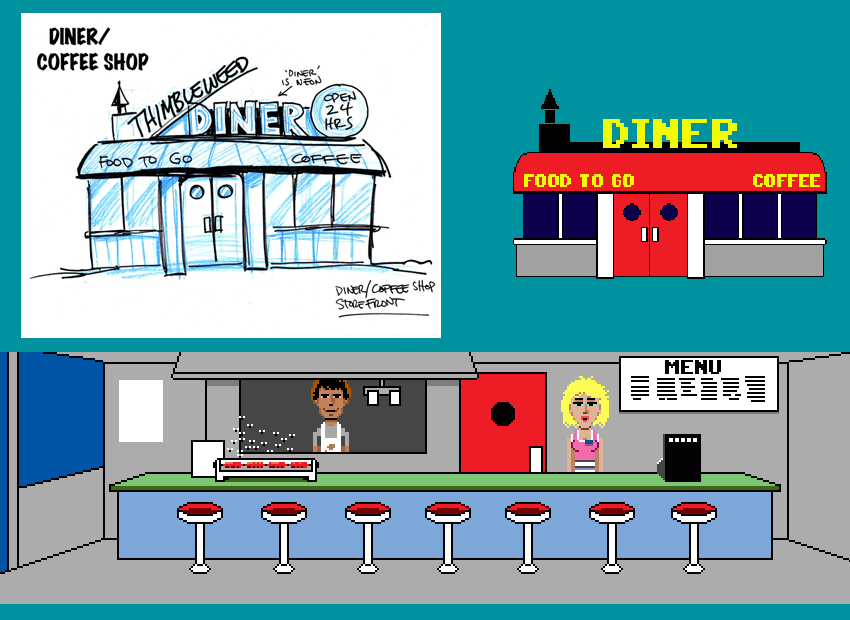 When we first started working through the design back in January, I spent about a month sketching some of the more well defined game locations out on paper. Once I had a rough image I went ahead and blocked it out, trying to retain the flavor of the associated graphical approach we developed for Maniac Mansion and the rest of those first Lucasfilm games.

In those days, given the C64 character set constraints, I'd literally just block everything out with rectangles of different basic colors, a solid brown rectangle for a wall with smaller blue rectangles for windows and doors, like I was cutting it out of colored paper, then start layering details on that, window and door frames, bricks, etc. The most repetitive details at first, followed by a few unique ones to iconically reinforce location and function.

Here's what the bathroom looks like, taking the concept to a first blocked-in pass: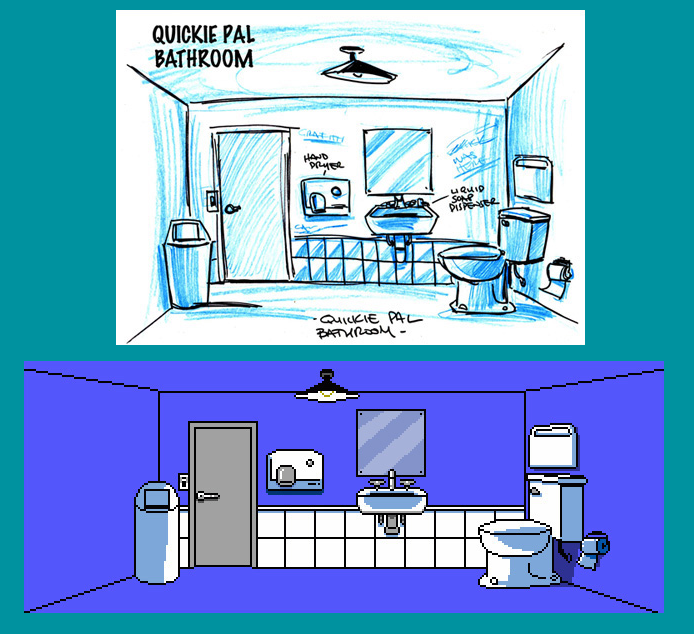 Once the design process for Thimbleweed Park got underway and brainstorming began in earnest (and David Fox became involved), it really geared up the list and functionality of the 'rooms/locations'.

As we quickly added more rooms, I stopped roughing out all but the most complex room layouts on paper and went entirely digital, cranking these out directly in Photoshop. At this point these are mostly out of my head, although I'm referring to the internet via google image search for some of the more specific and iconic details.

At the wireframe stage it's really like looking at iconic game tokens.......Monopoly anyone?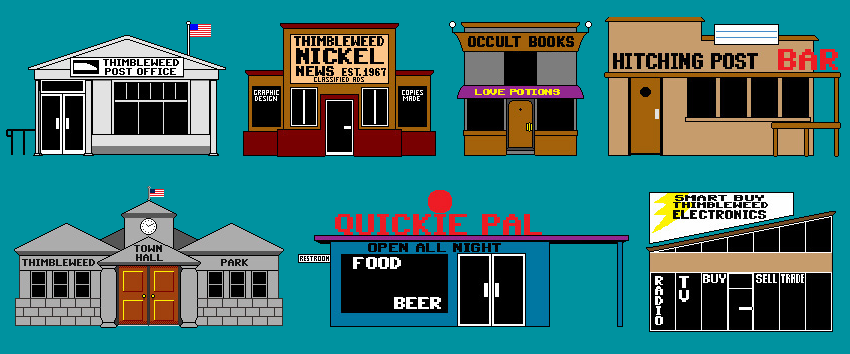 Rooms will ultimately come in a variety of sizes, scales and potential camera angles (most likely for larger, more impressive expansive areas such as the factory and hotel lobby, etc.) .

As we get deeper into figuring all this out, I start by working my way through some of the more obvious and straight-forward locations so we can both get a feel for how things will actually work and feel in the game.

Once I'm done with the room's wireframe, I give the art to Ron and he wires it up in the game. We might have some videos of a game walk-though in the near future.

- Gary
---