by Ron Gilbert
Jul 27, 2016
We added a cemetery to the game. The decision was made a few months ago, but we only just got the art. I thought I'd talk about why we added it so late and the decisions that lead up to that.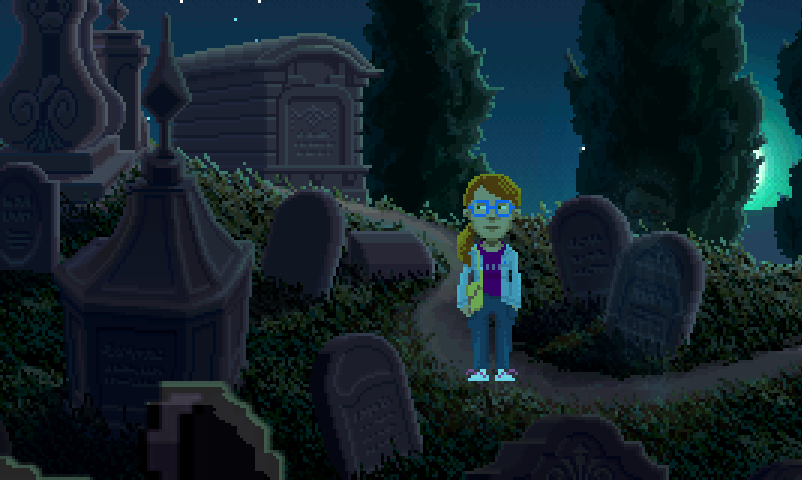 I'm going to dance around a few spoilers here, so bare (or is it bear... English is stupid) with me.

There are a lot of dead people in Thimbleweed Park, it's a twisty little mystery that begins with the body found in the river just outside of town. A few days before our story gets started, the owner of the local pillow factory, beloved founding father of Thimbleweed Park, and Delores's Uncle, died of a heart attack. It's an important plot point, but just mentioning it in dialog wasn't getting the it across.

There is an old adage: show don't tell. So what we decided to do was add a cemetery that you come across before entering the town that has a giant tomb, adorned with flowers from the recent funeral, for our beloved town leader.

Once we added the cemetery, other ideas started to pop up. There was a puzzle chain involving Franklin that always felt a little contrived, and now that we had a cemetery, we could adjust the puzzle to make it more interesting.

Franklin, being a ghost who's stuck in the hotel always limited his usefulness. Adding the cemetery provided a (logical) place that he could go beyond the hotel. So, we add another puzzle to allow him to move between the two places.

Another benefit of the cemetery was it made the reading of Delores's Uncle's will a lot more interesting, since it could take place in his tomb and added a new puzzle to get into the tomb.

The cemetery started out as an idea to solve a story issue, but blossomed into a great room that added several new and interesting puzzles.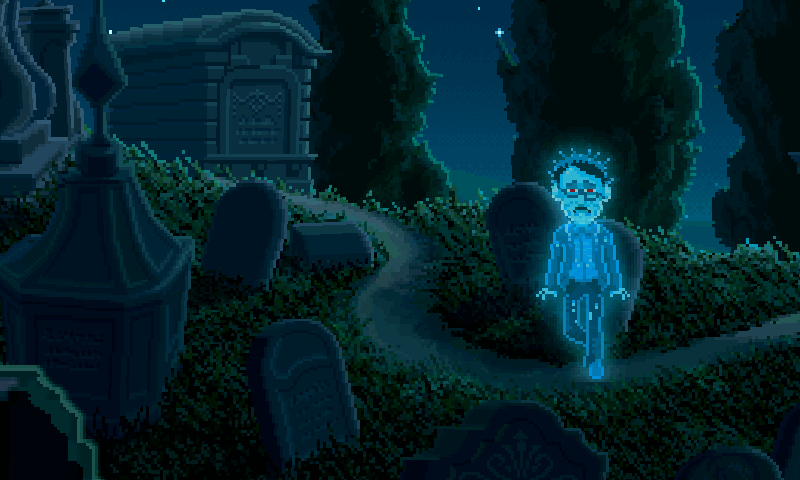 Also, cemeteries are cool.

- Ron
---