by Gary Winnick
Jul 08, 2015
Although I hate following 'the cutest dog in the world picture', it's time for the next art related post.

Ok, so based on the last round of feedback to the previous Delores design post, we thought we'd go through one last round of pixel art before Ron and I make our decision (yes, the decision of the judges will be final).

It's been very interesting to see everyone's reaction to what's approaching her final character art for the game. Now that somewhat recognizable pixel versions are in play there's been a lot of requests to try 'this head' with 'that body', etc. as sort of a 'colorforms' style exercise. Just a quick aside, #2 (the middle one) seemed to get the most positive overall response.

Certainly, one of the aspects of working digitally I really like is an almost endless ability to tweak and noodle pixel art the approach allows. Tear this head off, replace it with that one, change the skin color, put those shoes on that one over there. It's very fluid in nature which allows for an amazingly dynamic process.

However, one of the dangers of this is that you really can almost noodle something forever. I've worked on a lot of projects, with a lot of other folks, Project Leaders, Art Directors, Writers, etc. One of the things I really strive for is to present a coherent range of choices. If you're responsible for getting a job done, you really need to be able to focus in and decide. In the case of Thimbleweed Park, I'm doubly fortunate to be part of the design team, so my opinion carries a fair amount of weight and I happen to be working with extremely talented people whose opinions I respect and have a no-nonsense way of getting things done. As Ron tends to say from time to time "I don't know art, but I know what I like". (Actually he really does know art- but don't tell him I said that :-)).

This philosophy has served us in good stead during our time at Lucasfilm from Maniac Mansion to Monkey Island, and you have to know when it's time to fish or cut bait and in the case of Delores it's definitely time to fish and we certainly appreciate all the feedback we've gotten throughout the process.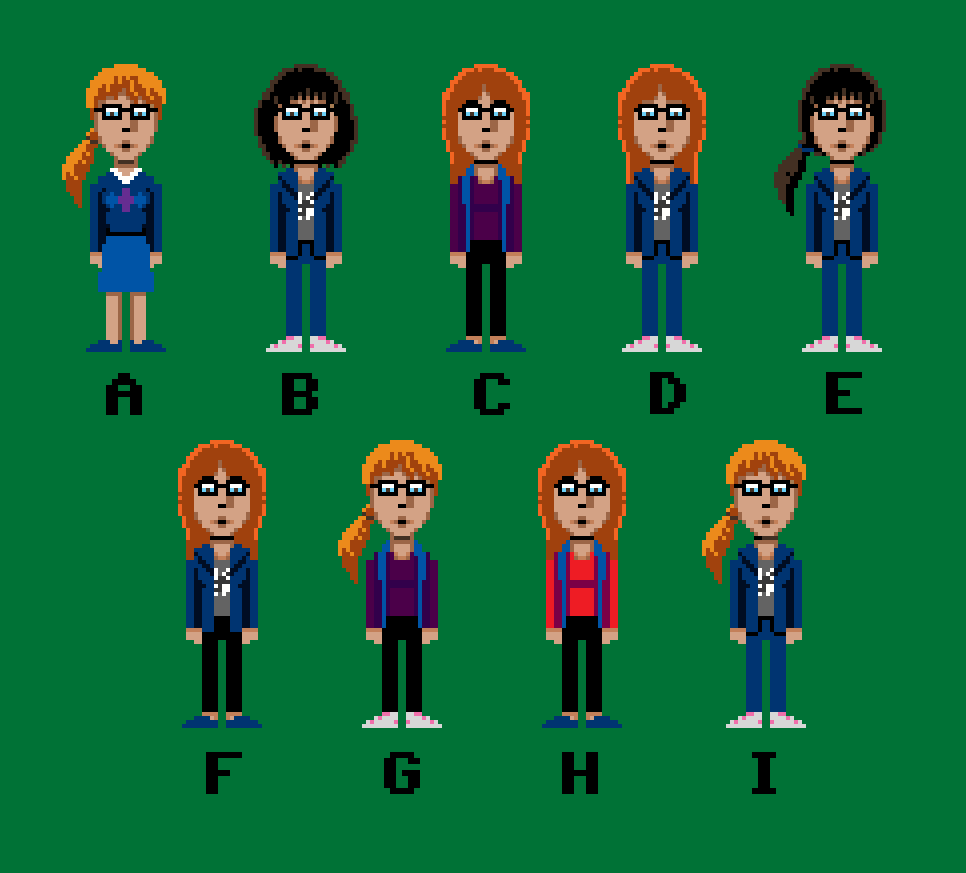 So here's to the last round of noodling Delores. From here we'll decide her actual design, then complete this series with a final blog post showcasing that in various poses and orientations.

Additionally, due to popular demand we will be planning on Delores having some 'themed' costume changes for ThimbleCon, after all she is kind of a geek....

- Gary
---