by Gary Winnick
Jul 02, 2015
Ok, so we're getting into the home stretch of designing the Delores Edmund character development process. If you haven't read the previous installments on the blog you might want to check them out before proceeding. We started with a text description for the character, then went through the process of gathering reference material, our thanks to everyone who participated, then went on to the character sketching stage.

Now we've proceeded to take three of the most likely sketches to the current in-game character style pixel render stage. These three were chosen through a combination of backer feedback, friend and team preference and because Ron and I said so.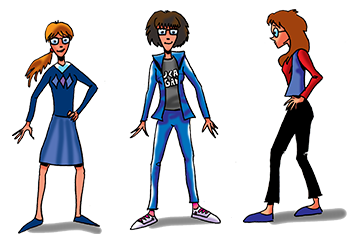 When I was originally designing the characters for Maniac Mansion I went through this same basic process, sketching the characters as felt pen renders and then trying to take those over to pixelcentric game characters. In those days, a lot of technical issues drove how I'd render them on the C64. They could only be a limited width and palette. The main thing that drove their big-headed-ness was Ron and I really wanted unique/recognizable characters, trying to make a unique looking face 5 or 6 pixels wide using 3 colors (one of which needed to be black) really drove their now iconic appearance. Today, basing Thimbleweed Park's characters on this approach is definitely a choice. We still want to evoke that iconic feel, however updated with additional palette and a broader range of animations.

Conversely, adapting Thimbleweed Park characters into big headed pixel versions at this stage is now fairly straight forward for me, as I'm pretty familiar with how most of the characters need to look in that style, it's mainly an exercise in taking one stereotypical set of parameters and shoehorning them into the next. What I mean by that is having simplified a set of characters into felt pen sketches- it's relatively straight forward to adapt those characteristics into a similar set of pixel constraints. Additionally, there's a simplicity and iconic nature to this step. The characters need to be mainly composed of basic color components with some rendering and be easy to tell apart and identify.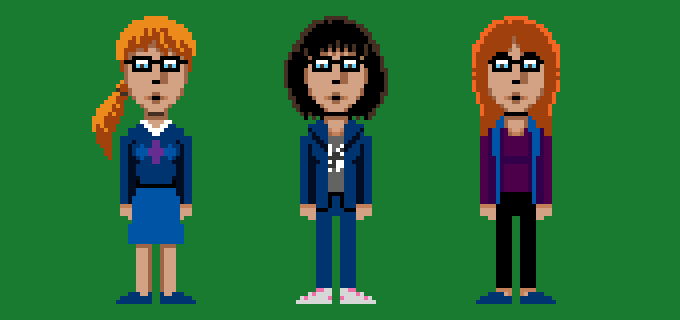 One of the things about these pixel rendered characters that's deceptive at this stage, is we're still looking at them in a very stiff cardboard cutout style stance. This is so we can see what they look like from purely an almost graphic design perspective, are the colors and shapes of a character aesthetically pleasing, does it mesh with the others? Once a character is actually in the game and animating, you're never really going to (hopefully) see them in this boring of a stance, there will be a ponderation and attitude to they way they stand and balance their non-existent weight (even for this style of character) which should make them seem much more interesting and alive.

The next and pretty much final step will be to take our selected pixel version and do a little bit of additional fine tuning of colors, skin tone, shading, and a few other details. Once we've decided on a final we'll create a number of reference angles (front, side, back, three-quarters) and a variety of poses. This will be the guide we'll use to create her final animations in the game bringing her to life as yet another memorable Thimbleweed character.

- Gary
---