by Ron Gilbert
Jul 12, 2016
In the original Maniac Mansion, heads were large because pixels on the C64 were very huge. Due to the color mode we were using, they were not even square pixels, they were twice as wide as tall. The hardware sprites each character had to fit in were 24 pixel wides, so Gary just made the heads as wide as he could to capture the personality of the characters.

There are huge parts of our brains that are dedicated to recognizing faces and subtle movements and expresses. How do I know this? Because I'm not only a game designer, I'm also an evolutionary neurological cognitive brain scientist. Look it up.

When Zak came out, the heads were shrunk to be "more realistic". By the time Monkey Island was made, the heads had gotten even smaller. True, it was more realistic, but I felt something was lost.

Guybrush didn't blink and he didn't move his eyes (except in some special case animations). Razor, Bernard and Micheal didn't blink either. Or move their eyes. Everyone stared straight ahead like zombies.

A month ago we added blinking to the Thimbleweed Park characters and it really changed how you feel about the game being alive. When someone is just standing, the blinking makes them feel real. If you were playing the game, you might not even notice it at a conscience level, but it's something you'd feel.

Last week I added eye movement. Characters can now look left and right. It adds a lot to even idles, as the characters appear to be looking around, aware of the environment. It's also really nice in conversations, because characters can actual look at who is talking to them. Before (and in previous games), characters would just stare forward. It's surprising how used to this you get, and when blinking and eye movement goes in, it's actually startling.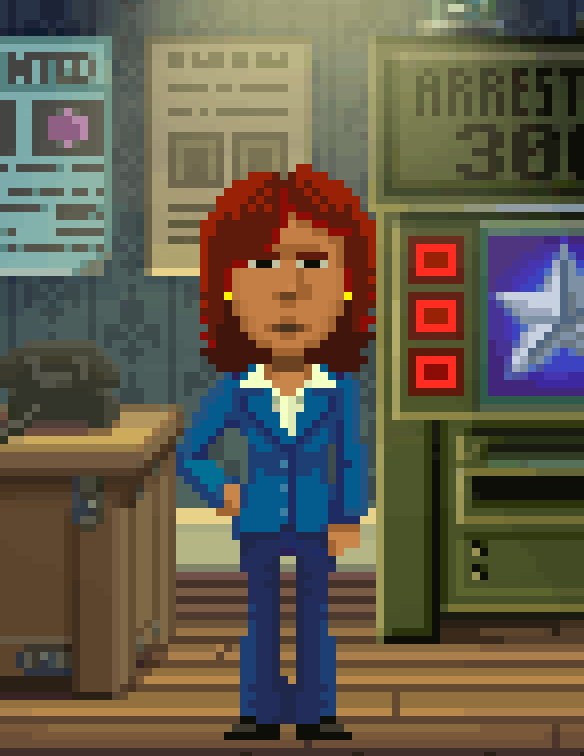 - Ron
---