by Ron Gilbert
Mar 30, 2015
One of the questions I get asked a lot is how true to the classic adventures is Thimbleweed park going to be?
Maniac Mansion was filled with dead ends and death, are we going to have that? Monkey Island got rid of death and dead ends, but it was still a hard game filled with puzzles without a lot of clues.

The classic adventure games tended to push people into the deep end of the pool, sometimes with no lifeguard on duty. Are we going to do that?
How are we going to handle new and modern players? People who have never played an adventure game before? Are we going to hold their hand? Have a tutorial? IAP to buy your way past a puzzle? Is there going to be a hint system?
They are all interesting questions. We have no doubt that Thimbleweed Park will hit the hardcore adventure game players and they will like it for it's complexity and depth, but what about the other 99% of players? The ugly fact is, most of the hardcore crowd backed the game (and thank you!), so they have already paid their money.

Our main goal is to make a great adventure game for us and our backers, but our other goal is to make enough from Thimbleweed Park that we can make another 2D point & click adventure. It might not be a sequel, maybe a whole new game and maybe with a very different art style, but it would be nice to make another.

To do that, we're going to need to sell the game to people who didn't back the Kickstarter or contribute to the development via PayPal and to do that, we're going to need to appeal to (or at least not alienate) the new modern gamer.

But... we need to do that without distracting from what makes Thimbleweed Park the rebirth of a classic 2D point & click adventure game. It has to remain honest to it's roots, ourselves and to our backers.

It's another one of the interesting design challenges of this game.

Thimbleweed Park will not have the death and dead ends of Maniac Mansion. Those were born from ignorance more than a focused design decision. It will follow my rules of adventure game design, but we hope it will have something else, and that is clear feedback and not only clarity of goals, but also reiteration and reframing of those goals.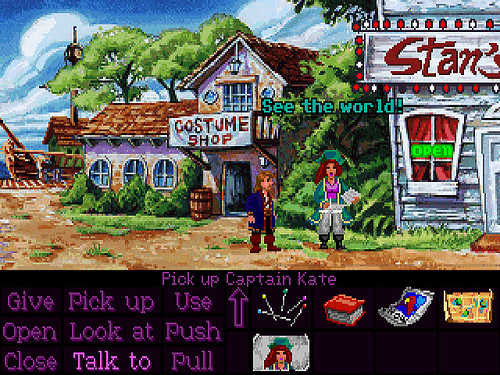 In Monkey Island 2, you needed to charter a ship from Kate Capsize. When you first talk to her, she gives you a wealth of information about what you need to do, why you need to do it, and how much it will cost you.

The problem is, when you go back to talk to her, she doesn't tell you much more than the cost to charter her ship. She doesn't allow you to ask her questions about the previous conversation or probe any deeper. If you talked to Kate, then stopped playing for a few weeks it was easy to forget what you were doing and be completely lost. 1-800-740-JEDI was your only option back then. $0.75 a minute, I might add.

I don't believe that modern gamers want easy games, but what they do want are goals that are clear. They want to know what they should be doing and then they don't mind if it's hard to actually do it or figure out how to do it. They just don't want to be lost. For an adventure game designer, you never want to hear "I have no idea what I should be doing."
Our goal for Thimbleweed Park is to create a true classic adventure game, but we do want to learn from our mistakes and use our knowledge and experience in the same way that Monkey Island refined the design of Maniac Mansion.

For Thimbleweed Park, it's about being clear what the player's goals are and (and this is important) allowing players to return to conversations and probe deeper. Maybe keep track of how long it's been since the last conversation, or if the player has visited a location, then let them ask some new questions. These questions don't need to be about the new location, it's just the game understanding you've been exploring and time has passed (you don't want players to be able just mine conversations).

It's not about giving away the solution, it's about being a little clearer.

It's also about letting players know they have accomplish something that is getting them closer to their goals and bringing the story to a conclusion. Players should feel a sense of accomplishment. They should know they are on the right track and feel good about what they are doing.

Casual games have this down to a science, but a lot of their praise and reward systems are "out of fantasy" and (for me) tend to be very patronizing, treating the player more like a child that got a gold star (sometimes literally).

We're not going to do that, but there are some great lessons to be learned. Be clear about player goals, reiterate goals and reward for completing goals (substitute "puzzles" for "goals").

All three of those can be accomplished completely "in fantasy", never taking the player out of the game for an annoying pop-up, and in the end, it will make the characters and the story stronger.

GOOD JOB, RON! YOU COMPLETED A BLOG POST!
- Ron
---