by Ron Gilbert
Mar 11, 2017
With over 16,000 record lines of dialog, someone on Twitter asked for a blog entry how how we keep it all organized. "Ha ha, we don't", Ron said laughing.

OK, not really, but kind of.

A quick refresher on how we enter and extract dialog from the Thimbleweed Park.

During early stages of development, we embed the dialog in the source code.

sayLine
(delores,
"George the postman will never pick it up without stamps on it."
)
Every time I bring this up, someone pipes in and says it's stupid to keep text in source code and I should have my game dev license suspended. I don't disagree. Keeping text embedded in source code is a crazy, dangerous and a rookie move. And we don't. Hear me out.

All the text in the game stays embedded in the source code for a good 3/4 of the project. It's just easier that way.

I've seen game dev code that looks like this
sayLine
(delores, TEXT_27243)
And that's fine if you have a few dozen lines of text, but becomes a creative nightmare when you have a tens of thousands and you're trying to write and iterate. Remember, our source code isn't just programming, it's also our script and the implementation of the game's expression.

We need to iterate and iterate fast. Having to look up, or enter lines of text in a "text table" would slow things down, so we just stick it in the source code.

About 5 months ago, I ran a fancy python tool over all the source code and it was turned into this...

sayLine
(delores, DELORES(
27243
,
"George the postman will never pick it up without stamps on it."
))
...and emitted a spreadsheet that looked like this...

DELORES
27243
George the postman will never pick it up without stamps on it.
The spreadsheet served a secondary function, and that was to do the translations. The translators would go though and add a new column for their translation. The original English was saved as ThimbleweedText_en.tsv and the Spanish was ThimbleweedText_es.tsv. We can keep adding translation files as we add translations. When we open the game up to fan translation, this is how it will work.

DELORES
27243
George el cartero no se la va a llevar si no tiene sellos.
Anytime we changed a line, we changed it in the source code and then re-ran the python tool and it would update the spreadsheet. The spreadsheets were readonly. We never edited them directly.

This went on for several months, then it came time to record.

Each line of text got tagged with these MACROS that told us who had to say each line.

DELORES if only Delores said it, RAY if only Ray said it, or AGENT if both Ray and Reyes said the line.

Then it got a little trickier.

PLAYER_AD if the Agents and Delores said the line, or PLAYER_DR if Delores and Ransome said the line, etc, etc.

sayLine
(PLAYER_ADR(
29971
,
"There are no drawers to close."
))
The preceding line needed to be recorded by Delores, Ray, Reyes and Ransome.

The preprocessor macro looked like this...

#macro PLAYER_ADR($a,$b)
"@$a:"
The actual text string is compiled out of the final code, leaving just the line ID. See, there is no text is the code.

<insert smilie face here>
Ultimately, this was needed to emit the scripts for the actors. If there was no voice, we could have used one tag (PLAYER) and be done with it.

When it came time to print the script for Reyes, we need to grab all the lines he needed to record (REYES) and the lines both he and Ray said (AGENT), plus any lines he, Ray and Delores, and Ransome needed to record (PLAYER_ADR).

It was tricky business to make sure all the lines were correctly tagged and we made a few mistakes. Some lines didn't get recorded and when that happened, we'd have to find another line that worked as well, or did some clever wav file editing.

We could have done a pick-up session, but so few lines were missed, that it wasn't worth the cost.

OK, so once the script was exported, we would go into the studio, record the dialog and then it would be cut up into .wav files.


You'll notice when the script is exported for Delores, lines tagged with PLAYER_AD get shown as DELORES, this is so when the editor cuts up the dialog, it gets save as DELORES_28938.wav, not PLAYER_AD_28938.wav. From that one line, we're get 3 .wav files (DELORES_28938.wav, RAY_28938.wav and REYES_28938.wav). It one line of text that's read by three different actors and needs to appear in the game assets three different times. They all have the same text ID because, as you recall, the text is striped and all that is left is the ID. When an character in the game says a line, the engine knows to prepend the name (RAY/REYES/DELORES/etc) to look up the .wav file.

The marks you see in the third column are the take-marks I did while recording to indicate the take I wanted. The /1 was the first take and I liked the A read, not the b read (the actor read each line twice). The fs means the actor had a false start and didn't read the whole line. The /4 means after they read one section of the script, we went back and did a fourth take.

When the recording was done, we had 16,000 .wav files and each was put into a folder named for the character.

DELORES/DELORES_28938.wav
RAY/RAY_28938.wav
REYES/REYES_28938.wav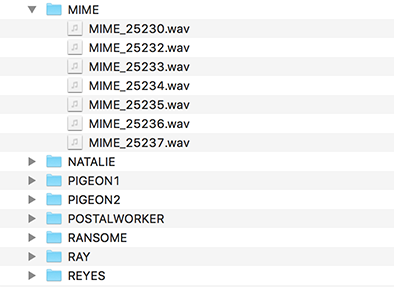 It's around 6GB of .wav files and we needed to compress them for inclusion in the game. We used .ogg files due to it being free of the patent and licensing issues that .mp3 has, although either would have worked.

I have a bash script that takes all the .wav files and compresses them into .ogg files, ready for the game to load.

Any editing we do is always done on the high quality .wav files so we can compress into any format we need. For example, we might need to compress the voice more for mobile and it's just an automated process.

We also have a script that runs each line though the lip-sync tool and produces .lip files, which are small text files with timing and mouth data. This process takes around 16 hours to run.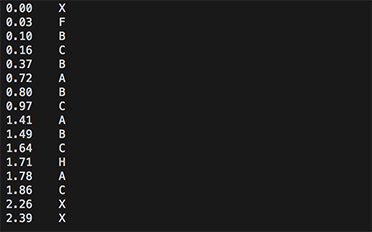 Of course, it gets more complex with Ransome and his foul mouth.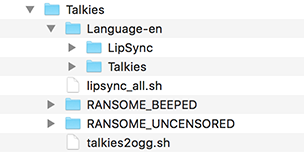 When the actor playing Ransome recorded his lines, he swore, then each of those .wav files had to be beeped. We kept all the original lines for two reasons. The first is we want to release an uncensored pack at some point and the second is Ransome needed to be lip-synced against the non-beeped lines, so when the lip-sync process was run, we need to point it at the original Ransome lines, not the beeped ones.

In the case where we had to hand edit a Ransome line, we had to edit the original, then edit the beeped version then make sure each got to the correct folder. It was nerve racking.

There you have it. Making games is easy.

- Ron
---