by Jenn Sandercock
Jan 20, 2017
We've had a great response for our three fan events in Europe! Thanks to everyone who let us know they're coming.

We're now able to confirm that the full details for the fan events are:
Munich
Date: Sunday 29th January 2017
Time: 7:00pm - 11:00pm
Location: Stragula, Bergmannstrasse 66, 80339 München

IMPORTANT NOTE: We were unable to secure a place that can fit more than 80 people and also adheres to our other requirements. We'll do our best to get everyone who turns up to come in. But with over 140 people signed up so far, it might be hard. We're asking for your patience and help in letting everyone have a chance to see the game.

MUNICH UPDATE!
There's been a lot of concern about the venue capacity of our Munich fan event. We're listening to you.

At this point, it's too late to find somewhere that will be able to fit everyone and meet our requirements. FYI: Our main requirements are to have a relaxed venue where you can hang out with some of the dev team and other adventure game fans. Other venue options that we looked at in Munich that were larger would mean that the event would become more formal and corporate-like. Ron's at his best when he's meeting you all individually, rather than addressing the multitude. We also want a place that served food and drinks.

UPDATED UPDATE: We've been able to arrange it so that we can open to everyone at 5pm (17:00). So that gives us more time for everyone to come, hang out, grow bored, leave and let new people in.

However, we want to make it clear that we will not kick anyone out. We do ask that if you feel like you've had a good experience and there are people waiting outside that you respect them and let them have a chance to come inside and hang with everyone. But we will not kick people out.

We will have a limited number of stations to play the game on, so it's unlikely everyone will get to play, but we won't be kicking people off after a few minutes of play, you will get to complete the demo. This has been true at all the past events and a group usually gathers around the station and everyone played it "adventure game" style. We try and have big monitors so everyone can watch.

We know this isn't ideal, but we hope everyone still has a great time.

Berlin (powered by Games Academy)
Date: Saturday 4th February 2017
Time: 6:00pm - 10:00pm
Location: Games Academy, Rungestraße 20, 10179 Berlin

London
Date: Thursday 9th February 2017
Time: 7:00pm - 11:00pm
Location: Zigfrid von Underbelly, 11 Hoxton Square, London N1 6NU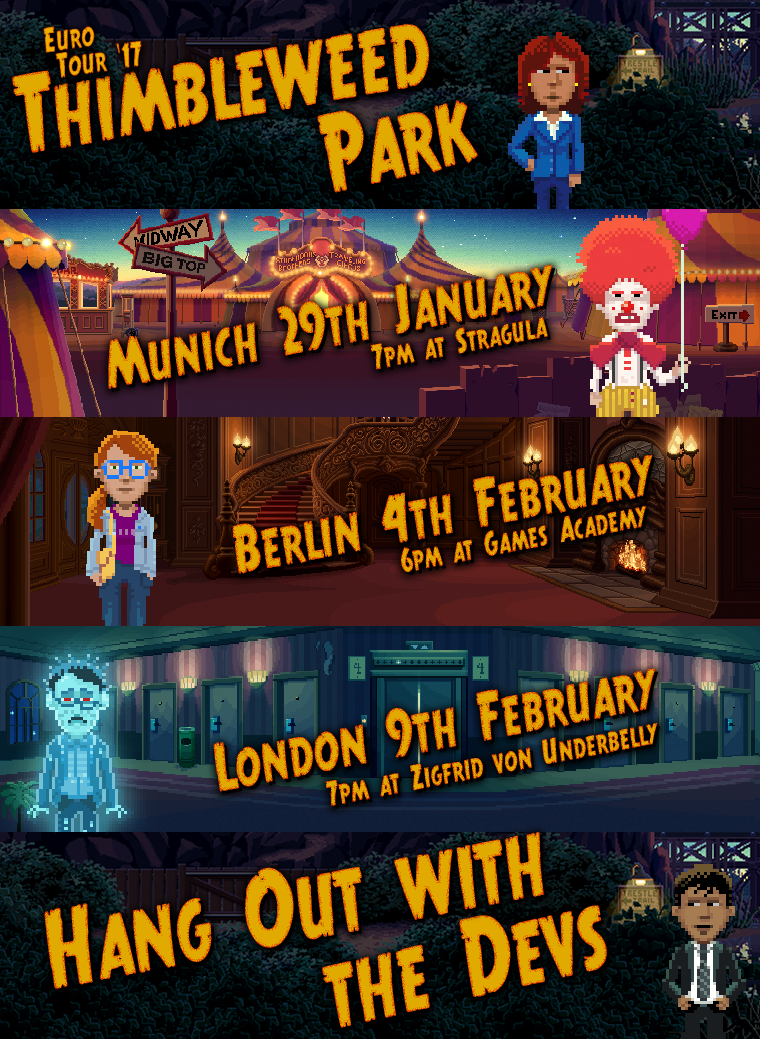 At each location Ron Gilbert and I (Jenn Sandercock) will be there. At some of the locations some of our European team will join us. In Munich we'll have: Boris Schneider-Johne (German translator), and some of our test team. Joost Peters (programmer) will join us in Berlin. Rob Megone (lead tester) will join us in London. Others of the development team will also try and join us if they can.

---