by Gary Winnick
Mar 01, 2015
As Ron and I work through the design and associated character story arcs, in addition to the five main playable characters, we've determined there are around fifty more characters that live within the confines of the Thimbleweed Park universe.

Each of these requires a written description (approximately a paragraph or more) of their function within the game, personality and some amount of backstory so we can determine how they might behave within the perspective of the story. What are their likes and dislikes? Where might they have gone to school. Did they go to school? Do they have siblings? What scares them? What makes them happy?
I also need to make sure they are visually unique, consistent and iconic enough that a player can easily recognize them as they become familiar with the cast of characters and their settings. What's someone's profession? How would they dress? How do they interact with the other characters?
All this drives the character's visual design, also in case of creating this style of character (at least for me) I like to arrange everything I've done side by side in a single photoshop file as I create them so I can constantly compare and reference what I've done so far as part of an ongoing iterative process.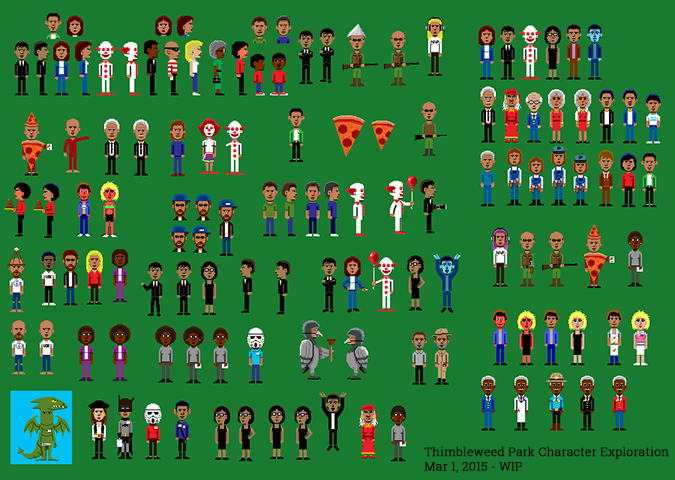 I also tend to use iconic items and clothing to reinforce personality and function, these can be a concept from out of my head or referenced from online. I usually use google image search and it's interesting that an iconic representation of an item wether it's a bottle, a phone or a pistol has pretty much remained the same over the last 50 years and that most players can immediately recognize an item even when it's reduced to a small number of pixels (I think the media has done an amazing job of getting our brains to recognize iconic representations on a screen) .

Once a character's front facing pose has been drawn it's fairly straight forward to create the matching side and back views, followed by walk cycle and any special animations it requires.

There are still quite a few left to do and some of them won't make the final cut and we'll play with skin tones, races and sex. It's all about exploration.

- Gary
---