by Ron Gilbert
Jun 20, 2017
There is a new Thimbleweed Park update (Build 1388.918) that includes two major additions and several minor ones. This build should be live on Steam and will be live on GOG in the next 24 hours. Due to approvals and reviews, it will be a few weeks before it makes it to the App Store and Xbox.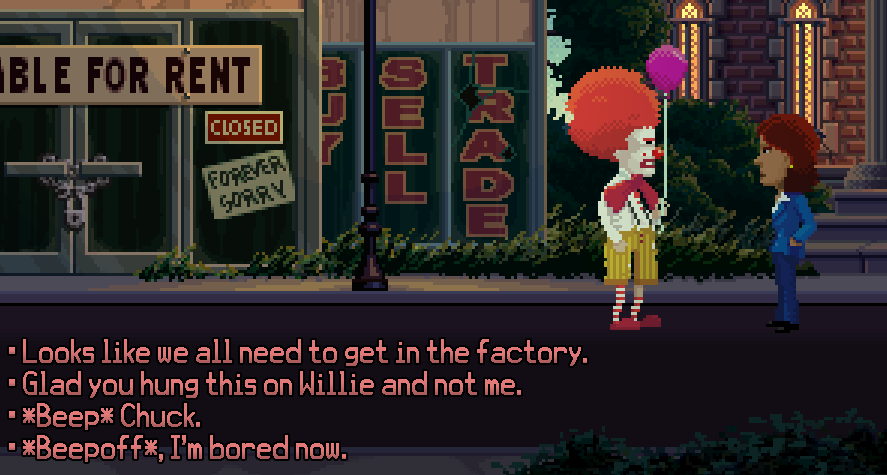 The first big change is player character dialogs. You can now TALK TO Delores, Ray, Reyes and Ransome. There was no point in adding Franklin dialogs, since you can't really talk to him, and he had one-sided stubs for trying to talk to other players.

This was something I attempted during initial production but abandoned due to me being unable to think about it as anything more than an a overly complex hint system. It always felt to me that all you'd want to do was talk to the other characters and get hints, and the early iterations of the system really showed that, so I abandon it. Time was also getting short and there was a lot of work to be done, so it wasn't matter of me writing player dialogs or hanging out at the beach.

This turned out to be a mistake. I should have pressed forward and implemented this.

Allowing the characters to talk to each other actually solved a bunch of problems. It was crystal clear (in our heads) why they were working together (or didn't care if they were), but that wasn't clear to players. This is especially true with Ransome. Ransome is an asshole. Why would he be helping?
Player character dialogs solved this problem. You now can chat amongst yourselves while spouting plot clarifying lines. If I had a few extra months I would have made them ever more complex, but maybe they don't need to be. I'm sure someone will complain that they didn't talk about X and that is plot critical. Maybe. Maybe not. I do think the dialogs help tremendously and I regret not pushing forward and implementing them from the get-go.

The other slightly related feature we implement was greetings. When Ray walks by Delores, she will say a quick one line greeting, same for Reyes, Ransome and Delores. None of these are plot revealing, but do make the world feel more alive and real.

The biggest change was a new in-game hint system. I know this will cause the hardcore adventure gamer's blood to boil (as it does mine), but the lack of hints was widely criticized by some of the more casual press. As we move to new and more casual platforms like iOS and Android, this becomes increasingly important. I guess it's a sad fact about not only modern gamers, but older gamers that just don't have 18 hours to spend on a game.

The first (failed) iteration of the design was based around a new object called the "HintTron 3000™". You would find it alongside the road and pick it up. You could then use it on any object in the game and it would give you a context appropriate hint.

On paper, it seemed like a good idea, until the first implementation and the problems came roaring out. The biggest problem was when you're stuck it's often at a conceptual level and you don't even know what object to click on. This could cause players to randomly click on stuff, hoping the get a hint with no real idea what they needed.

To stop non-stop hint-clicking, we added some friction in the form of a "cooldown", but it felt artificial and frustrating. We thought about adding a "currency" you find or earn (specks of dust), but these all ran into the issue os rarity and frustration when you can't find or earn them and you need a hint.

So we abandon the idea. David wrote a lot of code for this... so... a moment of silence.

To me, the most important part of any in-game hint system is making sure it feels like part of the world and game. I didn't want to do a hint system that was all UI based.

Back in the 80s, we had hint books with red gel, but we also had phone in hint lines.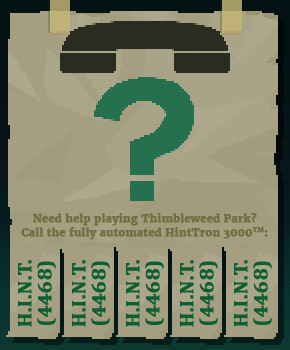 Thimbleweed Park already has a working phone, so it seemed natural to just have a hint line number you could call and get a hint.

We once again toyed with the idea of a currency. You're using a phone, so finding money to use it made sense, but unfortunately, the phone is needed for other things and we didn't want to muck up all that with making them all pay phones, plus some of the phones are in the mansion and hotel. We beat it around for a bit, then just decided to making the hint line "free" to use.

Calling the phone provides some natural friction, in that you'd have to get to a phone (or switch to whoever had the cel phone) and make a call and trip down a hint tree.

The advantage we had over a true 80s hint line was that we know the context of where you are in the game, so the hint line can be smart and focus down to hints we know you might needed, and ignore spoilers and other distractions.

Jenn volunteered to take on the job, and we based it (with permission) on the existing online hints of Meghann O'Neill, so we had a good starting place. It's a nice system and hopefully newer players find it fun and helpful.

Now, we know it's not going to be for everyone, but it is 100% optional in that you just don't call it. But I know one's willpower can be weak. If you set...

When you call the hint line, the phone will just ring and ring.

One tricky issue is old save games. To fully implement the AI of the hintTron, we had to add some new variables to track game state. If you load an old savegame, those variables don't exist. Jenn wrote some fancy code to try and predict an old savegame's state. It works 90% of the time, but if you load old games, hints might not be 100% accurate.

And lastly, I implemented some new keyboard commands.

1-6 will now selected dialog choices or they can be reassigned using...

keyChoice1:
"

1

"
keyChoice2:
"

2

"
keyChoice3:
"

3

"
keyChoice4:
"

4

"
keyChoice5:
"

5

"
keyChoice6:
"

6

"
You can assign keys to cycle through characters using...

keySelectNext:
"

0

"
keySelectPrev:
"

9

"
You can now disable initing of the controller by adding...

If you don't have the willpower to avoid calling the new hint lines, you can add...

There we more keyboard commands (like the numpad) that I ran out of time, but I'll save those for another update... because god knows, I can't stop working on this fucking game.

That arcade machines will make it into the next major update, probably when iOS and Android are released.

Come talk about it on the Official Thimbleweed Park Forums.
- Ron
---